My mom loves to bake, and growing up in our house there was always a tupperware container of either biscotti or pizzelles sitting in the kitchen. Both are AMAZING dunked in coffee (or milk, like I used to do when I was little). I haven't made them in a while and suddently had a hankering; Tessa helped and though I'm not a touchy-feely-nostalgic type person, I loved watching her sprinkle the cinnamon sugar on top they way I used to. These cookies are addicting in the sort of way that I started frantically bagging leftovers and trying to give them to anyone I would see. I walked into my neighbor's kitchen with the last one in my hand – I offered it up and she goes, "What didya find that on the floor?" It's the crumbly, barely sweet nature of these simple treats that make them as good for breakfast as for an after dinner treat. They're also so easy to make a child could do it. Seriously. I didn't let mine try because I wanted them to be perfect, but still.
Mom's Biscotti
1 c. sugar
3 large eggs
1 c. vegetable oil
1 tsp. vanilla
1 tsp. fresh lemon juice
3Â 1/2Â c. flour (plus about 1/4 c. more for handling)
1 tsp. baking powder
1/2 tsp. salt
1/2 c. almonds, toasted and chopped or slivered
Topping
1/4 c. sugar
1/2 tsp. cinnamon
1. Preheat oven to 325 degrees.
2. In a large bowl, whisk sugar, eggs, oil, vanilla and lemon juice.
3. In another bowl, whisk flour, baking powder and salt.
4. Add dry ingredients to wet ingredients and mix until combined.
5. Add almonds and mix into batter.
6. Using a floured counter and floured hands, shape dough into three equal logs – 2 in wide, about 10 inches long – Â and place width-wise on an ungreased cookie sheet.
7. In a small bowl, mix cinnamon and sugar for topping. Sprinkle logs generously with topping.
8. Bake for 30 minutes. Remove from oven and maintain temperature.
9. Cool on pan about ten minutes. Transfer to a cutting board and slice into 1 inch slices.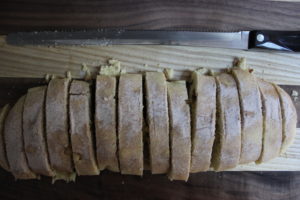 10. Turn biscotti on their sides, return to original baking sheet, and bake for 15 more minutes or until lightly browned.
11. Cool completely on a wire rack.
12. They will keep for at least a week in tupperware at room temperature.