My wonderful family friend Trisha has a talented buddy named Alli who owns a bakery in Philly (Sweet Freedom),  specializing in gluten free baked goods. Trish passed her recipe to me literally months ago; it looked delicious and she warned me she has eaten whole batches by herself so I was more than intrigued, but as there was a certain ingredient I was hesitant to buy, I saved the email in my inbox (I keep it tidy, so this is saying something). I sometimes bristle at the new, natural ingredients that come into the spotlight. The recipe called for "coconut sugar" and my Clean Eating magazine had explained a while ago that the body responds to coconut sugar pretty much the same way it responds to regular sugar (but for twice the price). I held to my convictions until the new year was imminent and I wanted to deep clean my inbox, not to mention make something sweet my husband could enjoy while home on break.
Ok, time for the review. These were AWESOME. Surprisingly good. Though the coconut sugar might be only a smidge healthier it has a deep, rich flavor that made these cookies completely addicting. The appearance leaves something to be desired but one taste makes you look right past. Rich was on his way home from errands with Tess and I told him I made him some cookies, gluten free, dairy free, and full of healthy ingredients. I couldn't blame him for his lack of enthusiasm, as they wouldn't get me excited either. Once home, he ate 5. He said, and I quote, "these can't be healthy".
I can't quite nail why these are so addicting. I mean, they really are delicious – crisp edges, chewy interior, and a rich flavor with a great sweet/salt balance, but my level of self control around these is a zero, as in I just can't stop. Is it because I know they're healthy? I just hid the leftovers in a drawer so I wouldn't see them. Oh and a side note? No mixer required – they come together in ten minutes.
Almond Chocolate Chip Cookies – GF, DF
Makes about 4 dozen
Slightly adapted from Alli's Almond Cookies, Sweet Freedom Bakery, Philadelphia
3 c. almond flour
1/4 c. ground flax seeds
1 tsp. baking soda
1 tsp. kosher salt
1 1 /2 c. coconut sugar
1/2 c. refined coconut oil, melted
1 tbsp. vanilla extract
1/3 c. natural applesauce
1 c. bittersweet chocolate chips, chopped
1. Whisk flour, flax, baking soda, salt, and coconut sugar in a medium bowl.
2. In a second, larger bowl, whisk oil, vanilla and applesauce. Add dry ingredients to wet and stir until completely combined. Add chips and stir to combine. Cover and chill at least 30 minutes or up to several hours.
3. Preheat oven to 350 degrees. Line large baking sheet with silpat or parchment paper.
4. Scoop batter with cookie scoop or roll into small balls (about a scant tablespoon). Place 2 inches apart on cookie sheet and bake for 10 minutes.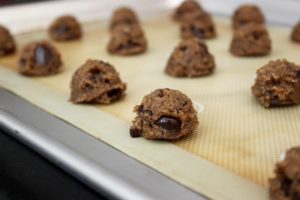 5. Cool 10 minutes on sheets then carefully transfer to wire rack to cool completely.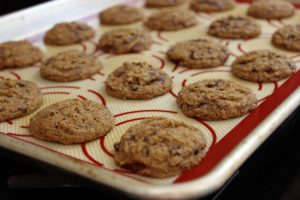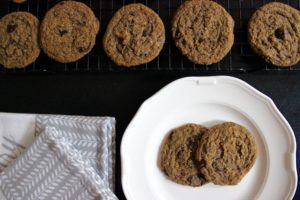 Storing is tricky. They remain delicious but lose a bit of their crispness as they sit. Making small cookies helps with this, but they should be stored between sheets of parchment or waxed paper and only partially covered (don't snap the top on the tupperware, just have it resting on top), and they're best eaten in the first several days. They freeze BEAUTIFULLY and are almost as delicious when eaten cold, straight from the freezer.