This is the sort of thing that's completely dangerous for me. When these crunchy, just sweet enough cookies are on my counter all I want to do is make coffee or hot chocolate, curl up under a blanket, and dunk to my heart's content (which is like, twenty biscotti).
These biscotti have been on my site a long time but needed a reboot; if you like your biscotti traditional (nice and crunchy), then this is the recipe for you. Authentic recipes for biscotti are naturally fat free. The eggs provide the liquid and they wind up perfectly crunchy, but with just enough chew in the center to keep you coming back for more (again, the addiction is real). You can feel a-okay eating one for breakfast with coffee and then again for dessert after dinner. They freeze well, keep on your counter for up to two weeks (which ALSO makes them a great Christmas gift) and, even though I find them easier to make than traditional cookies, seem to illicit a "wow" response when shared with friends.
Bittersweet Chocolate Hazelnut Biscotti
Makes 20-30

2Â 2/3 c. all purpose flour
1 c. unsweetened cocoa powder
1Â 1/2 tsp. baking soda
1/4 tsp. kosher salt
2 c. sugar
1Â 1/2 tsp. instant espresso powder or instant coffee
1 c. bittersweet or semisweet chocolate chips
1Â 1/2 c. unsalted, skinned hazelnuts, toasted
5 large eggs
1Â 1/2 tsp. vanilla
1. Preheat oven to 325 degrees.
2. Whisk flour, cocoa, baking soda, salt, sugar and espresso in a large mixing bowl.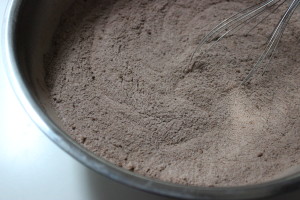 3. Stir in chocolate chips and hazelnuts.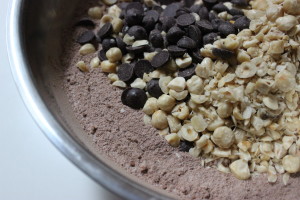 4. In another bowl, beat eggs with vanilla until combined.
5. Add egg mixture all at once to flour mixture and stir until combined. Dough will be stiff. Stir until evenly combined.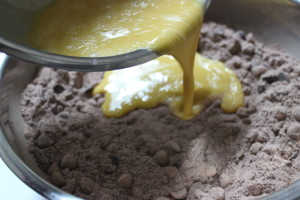 6. Using slightly wet hands, form two logs on a cookie sheet lined with parchment paper. Make logs 3 inches wide, 2 inches high (arrange long-ways on the sheet).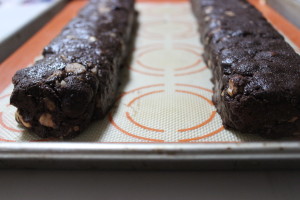 7. Bake for 35 minutes. Remove from oven and decrease oven temperature to 300 degrees.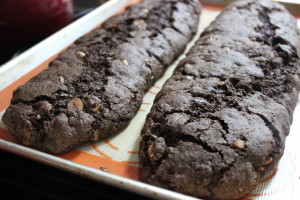 8. Let cool fifteen minutes, then transfer logs to cutting board.
9. Slice into 1 in. slices, and return slices back to pan, laying on their side.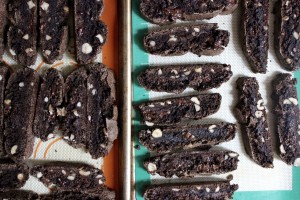 10. Bake for 25 minutes, then remove from oven and transfer to cooling rack to cool completely.
Store at room temperature up to two weeks. Can be frozen.