I have had this on my site for years but when my local Giant was out of Food For Life bread, I decided to get baking with this memorable recipe. I thought I'd "clean up" this version by using all white whole wheat flour instead of the ratio the original recipe suggested. The loaves came out smaller, denser than I had remembered and though tasty (Tessa absolutely loved it) it paled in comparison to the bread I remembered.
It's actually a good thing, but I ended up with the realization that the original recipe is absolute perfection as is, and I should never have messed with it – my health-conscious idealism be damned. This smells like cinnamon but tastes like the most yeasty, tender, slightly sweet but perfect with salted butter thing you've ever had.
I love working with yeast; yeast breads are my favorite thing to make in the kitchen. I love the idea of starting with so few ingredients and ending up with something that looks like it came from a bakery. A lot of people find yeast daunting, and if you're such a person I'd like to think you're just a good recipe away from figuring it out. It's a living organism, a fungus actually, not like that's freaky at all. Two things kill yeast, and that's too much heat or too much salt. If you follow the recipe below, just as it's written, I promise your yeast will live (that is, until you put it in the oven).
Though I used standing mixer, I've made this plenty of times with just a little counter-top kneading – turns out about the same. This bread freezes excellently, so if you won't eat two then freeze one (once it's completely cool, wrap it in plastic wrap and then foil). Lastly, I'd be remiss if I didn't include my favorite lunch of all time. Toast a slice of this bread, then top with sliced brie and place in the oven until it melts a bit. Once out, top with thinly sliced pear, a drizzle of honey, and toasted chopped walnuts. Amazing.
Vermont Oatmeal Maple-Honey Bread
Slightly adapted from The King Arthur Flour Baker's Companion
Makes 2 9 in. loaves
2 1/3 c. boiling water
1 c. old fashioned oats
1/2 c. brown sugar
1 tbsp. honey
4 tbsp. unsalted butter
1 tbsp. kosher salt
1 tsp. cinnamon
1 tbsp. rapid rise or instant yeast
2 c. whole wheat flour
3 1/2 c. all purpose flour
1. In a large mixing bowl (or bowl of standing mixer), combine the water, oats, brown sugar, honey, butter, salt, and cinnamon. Let mixture cool to lukewarm, about fifteen minutes.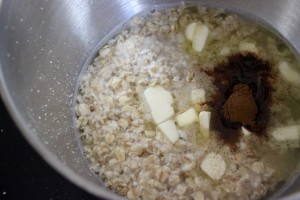 2. Add the yeast and both flours and stir with a wooden cooking spoon to form a rough dough (alternately, mix with dough hook attachment on mixer).
3. Sprinkle a counter top generously with flour and dump dough onto counter. Knead for about 8-10 minutes or until the dough is tacky, smooth, and elastic (alternately, knead in mixer about five minutes). 
4. Grease a clean bowl with cooking spray and put the dough into it. Turn the dough around so that it is covered by the cooking spray. Put plastic wrap over the top and let rise in a warm place for 1 hour; the dough should double in bulk.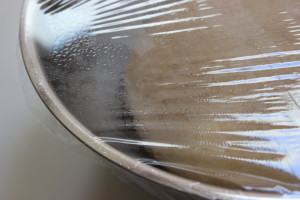 5. Grease two loaf or bread pans. The recipe called for a 8 1/2 x 4 1/2 bread pan but I used my 10 inch loaf pans and it worked just fine. 
6. Divide the risen dough in half and press out into an 8×10 inch rectangle. Roll up the bread, starting with shorter side, and press ends and edges to seal. Place in prepared bread pan.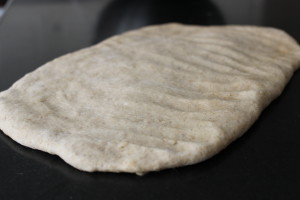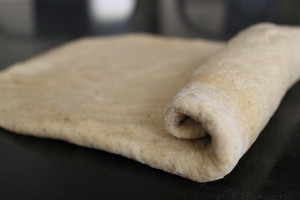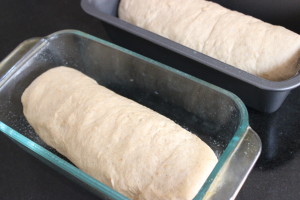 7. Cover the pans lightly with plastic wrap and let the loaves rise for another hour in a warm place.
8. Before baking, "score" the bread by slicing 1/2 in. deep diagonal lines across the top (about 3 lines).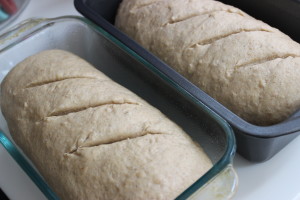 9. Preheat oven to 350. Bake the loaves for 35 minutes or until golden brown