Truly, this takes 10 minutes. This is the type of kid-friendly "cooking" (this can barely be described as cooking) that can serve as the perfect way to get kids used to new foods. Do they think they don't like almonds? Cover them in chocolate and I bet they'll change their minds. 
Plus, we all know by now that a great way to get kids to try new foods is to have them help you make them – every cook wants to taste the dish they worked hard to make. With oats, almonds and dried cherries, this healthy treat is just the sort of thing I need in my fridge at all times (and the rest of my family agrees).
Happen to have some pistachios and dried cranberries in the pantry? Sounds delicious! Keep the amounts the same and you're good to go. As I was mixing I realized chia seeds would hide nicely in the chocolate, so I'll definitely be adding a tablespoon or two of them next time. There's not enough liquid for the seeds to "bloom" – aka, get stuck in every one of my tooth crevices. In this case, what they (the kids) don't know will be very, very good for them.
Chocolate Almond Cherry Bonbons
1 1/3 c. bittersweet chocolate chips
1 tbsp. almond butter
1 c. old fashioned oats
1/3 c. roasted, salted, almonds, chopped
1/3 c. dried cherries, chopped
1. Place chocolate chips and almond butter in a glass mixing bowl. Microwave 1 minute and stir. Microwave another minute and stir until smooth.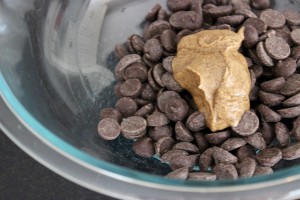 2. Add oats, almonds and cherries and stir to coat. Drop by tablespoon (a small cookie scooper will work best here) onto parchment or silpat lined baking sheet. Refrigerate 30 minutes or until hardened and set. Store in the fridge in airtight container.