I've been considering once a week chili for the cooler months of the year. Why? It's healthy, the whole fam enjoys it, it comes together quickly, and it's naturally gluten and dairy free (we don't avoid dairy but you might). Also, this just in, there are about a thousand versions you can make. This particular version comes together in under 30 minutes, is packed with protein, fiber and nutrients, and is a pumped up with veggies though it's not vegetarian. I can hide pretty much anything in chili and my kids are on board, which is great when it comes to dinner because it's almost always a struggle with them. Chili is also a wonderful option for "take a meal" situation, since it works with food sensitivities and most recipes can easily be doubled or tripled, depending on how many you need to serve (this included). Some corn muffins and your good to go!
Product alert: Even though it's pretty much straight sugar, and I'm sure there's a great scratch recipe out there, I always keep a box of Krusty's GF honey corn bread mix on hand. It's honestly delicious – it tastes like the vanilla boxed cake version of cornbread and I can get it in the oven in five minutes, which makes for a weeknight win.
Chicken and Sweet Potato Chili
Serves 6
Adapted from Cooking Light
2 tbsp. olive oil
1 onion, diced
1 large green bell pepper, diced
1 large sweet potato, peeled and diced to 1/2 inch (2 c. worth)
1 tsp. salt, divided
2 tbsp. chili powder
2 tsp. ground cumin
1 tsp. dried oregano
1 (15 oz.) can cannellini beans, drained and rinsed
2 c. chicken broth
1 c. frozen corn
2 c. cooked, chopped chicken (rotisserie works)
1/4 tsp. black pepper
Cilantro, avocado and sour cream to top
1. Heat olive oil over medium heat in dutch oven or pot.
2. Add onion, pepper, potato and 1/2 tsp. of the salt. Saute about 8 minutes or until slightly softened.
3. Add chili powder, cumin, and oregano and cook, stirring occasionally, about 1 minute.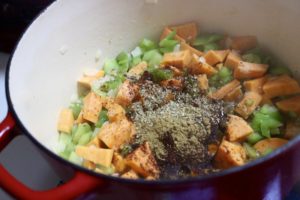 3. Add beans and chicken broth; increase heat to high until mixture boils. Reduce heat to low and simmer, partially covered, for about 15 minutes.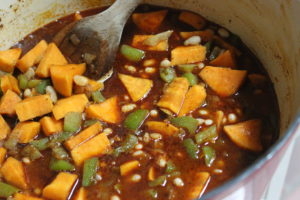 4. Add corn and chicken and cook until heated through, about three minutes.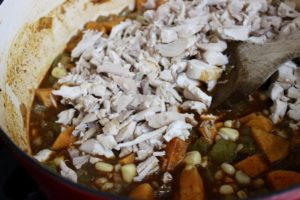 5. Serve, topped with cilantro, avocado and sour cream/yogurt.