Do you know about frozen puff pastry? I love the stuff because the homemade version is really hard to make and not necessarily better tasting. I consistently keep a box of Pepperidge Farm frozen puff pastry in my freezer because truly, the possibilities are endless.
These cheese straws are one of my favorite things to make with the pastry; twirly, impressive, crunchy, cheezit tasting breadsticks with minimal clean up. They'd be perfect with a cheese plate and some sliced fruit. They're also super fun to make with kids, what with all the twisting. The house smells amazing and they're especially good whilst warm. If you wanted to make them ahead, prep until twisted and on their baking sheet – then just bake within a half hour of needing them. You could also probably refreeze the twists, though I can't vouch for it because I haven't done it.
Cheese Straws
Makes 14-16
1 Sheet frozen puff pastry, thawed
1 c. parmesan cheese, ideally freshly grated
1/4 tsp. salt
1/4 tsp. pepper
1/4 tsp. garlic powder
To thaw pastry, keep in paper and set on counter for about thirty minutes – alternately it can thaw in the fridge overnight. 
1. Preheat oven to 425. Line two baking sheets with parchment paper.
2. Mix cheese, salt, pepper, and garlic powder in a small bowl.
3. Lay out a sheet of parchment or waxed paper. Unfold your thawed pastry on it.
4. Sprinkle half of the cheese mixture over the surface of the pastry. Place another sheet of waxed/parchment paper over the top, and roll with a rolling pin, pressing the cheese into the dough.
5. Flip the entire thing over. Peel back the paper, sprinkle the rest of your cheese, replace the paper, and roll again. Be careful not to roll too thin; you don't want your square to get any bigger than 12 inches on each side.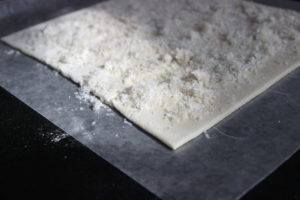 6. Peel off the paper. Using a pizza cutter or sharp knife, cut 3/4 inch strips. Try to make them as even as possible (use a ruler if you need to).
7. Pick up each strip. Hold both ends and twist in opposite directions, making the strip curl. Lay the strip on the prepared baking sheet.
8. Continue with the rest of the strips, putting about 8 on each sheet (spaced 1 inch apart).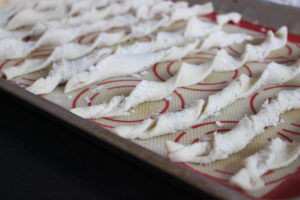 9. Bake for 8-10 minutes, or until golden brown.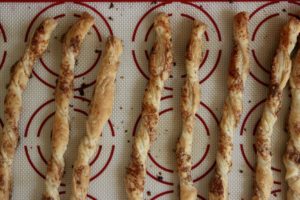 10. Cool for five minutes. These will last in a ziplock bag or a tightly sealed container for up to 3 days. If making ahead, they'll need to be "re-crisped" in a 300 degree oven for about five minutes.