This healthy, filling dinner was a hit with my family and the time/temperature with the meat so perfect that I'm posting it here as much for me as for you; I now know exactly how to cook pork tenderloin to ensure it's tender and juicy. 
This could also be an "ode to Costco", because pork tenderloin should always be sold in packages of 2 – 1 is enough for no one. I completed the dinner below with a bag and a half of frozen peas, thawed and quickly cooked with fresh garlic, olive oil and plenty of salt and pepper. I had more than enough for my family of four for two nights in a row – a wonderful load off the mind.
Are you one of those families or couples who doesn't eat leftovers? I don't understand you. If a meal was tasty and healthy, I could probably eat it every night of the week. This might has more to do with me being the chief cook in the house, but still.
Anyway – a quick, high temperature roast is perfect for this particular meat, and the acidity and flavor of the rice was the perfect complement. Lastly, make sure you don't waste a drop of the "juice" of the pork, left behind on the baking sheet as it's the ideal finish for the plated meat.
Balsamic Pork Tenderloin with Tomato Basil Rice
Serves 4-6
Rice
1 1/2 c. brown rice
2 1/2 c. boiling water
2 tsp. kosher salt, divided
2 tbsp. olive oil, divided
1 lb. tomatoes, diced
1/2 c. packed fresh basil leaves, finely chopped
1/4 c. champagne vinegar
2 tsp. sugar
Pork
2-2 1/4 lb. pork tenderloins (2), trimmed
2-3 garlic cloves, smashed or cut to slivers
2-3 tbsp. balsamic vinegar
2-3 tbsp. olive oil
1/2 tsp. kosher salt
1/4 tsp. black pepper
1 tsp. finely chopped fresh thyme leaves
1. Heat oven to 375. Combine rice, water, 1 tsp. of the salt and 1 tbsp. of the oil. Cover with foil and bake for 1 hour. Fluff with fork. Alternately, use 3 1/2 c. cooked rice and add oil/salt to finished dish according to taste. 
2. Meanwhile, combine tomatoes, basil, remaining 1 tsp. salt, remaining 1 tbsp. oil, vinegar and sugar in a large mixing bowl. When rice has cooled slightly, add to tomato mixture and stir to combine.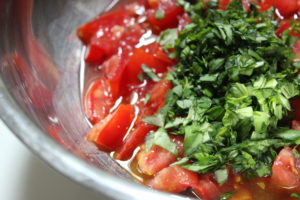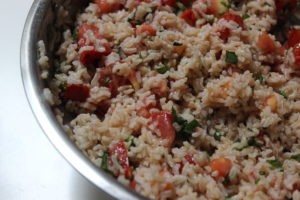 3. In a second oven or when rice is finished, heat oven to 475 degrees. Line a rimmed baking sheet with foil and arrange trimmed tenderloins on pan. Cut small slits with a knife and tuck garlic inside each one.
4. Drizzle with vinegar and oil. Sprinkle evenly with salt, pepper and thyme. Bake for 20 minutes. Tent with foil and let rest about 10 minutes. Slice in 1 inch pieces and serve with rice, drizzled with any juices left behind on pan.