Soup is the best. Why? Well, for me it's a guaranteed double dinner, and I LOVE double dinners. It's also the best way to get a variety of veggies into my diet and my kids' diets. This soup was absolutely delicious and I have a feeling I'll be making it tons this winter. 
Stuffed peppers aren't one of my favorite meals. You heard me. I mean, they're okay, I actually like the flavor, they just seem like a bit of undue work. You cook the filling, you stuff it into a pepper, then you cook it all again – but then when you eat them, they fall apart like the mess you stuffed into the pepper in the first place. Sounds a bit redundant for a weeknight.
Want the easier (and more practical) version? This soup mimics the flavor of Italian-style stuffed peppers. Tons of veggies, oregano, parsley, and parmesan cheese. Soup is no harder to make than any other recipe, but there are two ways you could go wrong. First, make sure to taste before serving; it's so dang easy to add more salt as needed, though I've had plenty of bland soups out there in the world. Next, don't be alarmed if your soup seems a bit thick or a bit thin. Well, thin you can't do too much about unless you wanted to add more cooked rice, but thick? Water or broth will do the trick. Here's to one night of cooking and two nights of eating.
Last thing – if the zucchini you bought is large, I like to half them (lengthwise) and scrape the seeds out before using in soup. 
Stuffed Pepper Soup
Serves 6
8 c. beef broth, divided
3/4 c. brown rice
1.3 lb. organic ground beef (ideally grass-fed organic)
1 lg. onion, diced
3 garlic cloves, minced
1 zucchini, diced
3 bell peppers, diced
1 1/2 tsp. kosher salt
3/4 tsp. ground black pepper
1 tsp. dried oregano
6 oz. tomato paste
2 (15 oz) diced tomatoes
1 tsp. balsamic vinegar
1/3 c. minced fresh parsley
1/2 c. grated parmesan cheese, plus more to serve
1. In a medium saucepan over high heat, add 4 cups of beef broth. When it reaches a boil, add rice. Reduce to medium low and simmer.
2. Meanwhile, in a large pot over medium high heat, add beef. Cook, breaking up with a spoon, until no longer pink. Drain excess fat then remove beef to a bowl.
3. Add onion and garlic and saute until softened (add olive oil if pan is dry), about five minutes, stirring occasionally.
4. Add zucchini, peppers, salt, black pepper and oregano and saute, stirring occasionally, until softened, about five minutes.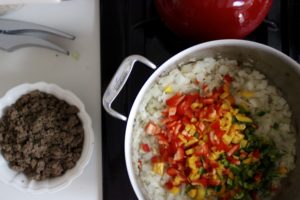 5. Add tomato paste and stir frequently, about 1 minute. Add tomatoes (with juice) along with remaining 4 cups beef broth. Add rice (with broth) along with reserved beef. Turn heat to high and bring to boil.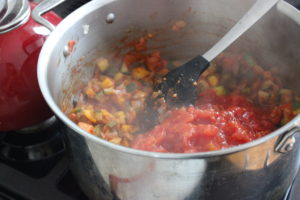 6. Reduce to simmer and simmer for about five minutes, to meld flavors. Remove from heat and stir in vinegar, parsley and cheese. Add hot water to thin as needed. Taste for salt. Serve, with cheese.