I wanted to put "gluten-free" in the title but I didn't, and I'll tell you why. As I dabble into the world of gluten free cooking/baking (for my husband's sake - not mine), I find that the best results are recipes that are naturally gluten free – no swaps. These cookies are flour free and somehow exist just fine without grain. I would make these whether gluten free was my goal or not. Back to the title – these aren't "gluten free cookies", they're just great cookies that happen to be gluten free. 
So you might be wondering, are these healthier for you even if you're not concerned with your gluten intake? Lower in calories, fat, and sugar they are NOT, but I might argue that the calories in these cookies are more beneficial than those in a standard cookie. Peanut butter, eggs, oats, and dark chocolate all have health benefits, ranging from trace minerals to protein to fiber. Unbleached all purpose flour is fairly devoid of nutrients. So, if you're trying to eat a less processed diet then these cookies have more "bang for your buck". For your kids? These are definitely a better option than standard homemade chocolate chip, and WAY better than what you'll find at the store.
Flourless Chocolate Chip Peanut Butter Cookies
Makes 18
1 c. peanut butter
2/3 c. light brown sugar
1 tsp. vanilla
2 large eggs
1 c. rolled oats
1 tsp. baking soda
1/4 tsp. kosher salt
1/2 c. bittersweet chocolate chips
1. Preheat oven to 350 degrees. Combine peanut butter, brown sugar, vanilla, eggs, oats and baking soda and salt in bowl of a standing mixer. Mix with paddle attachment (or standard beaters on a hand held electric mixer) until smoothly combined.
2. Add chips mix on lowest setting until combined.
3. Scoop in heaping tablespoon amounts and roll into balls. Place on plate or cookie sheet and freeze, 30 minutes. Place onto silpat or parchment lined cookie sheet, spacing at least 2 inches apart.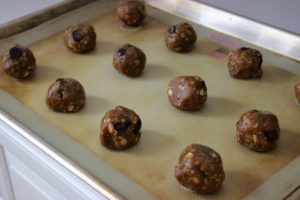 4. Bake for about 12 minutes or until mostly set and just starting to turn golden around edges. Remove from oven and let cool on sheet at least five minutes.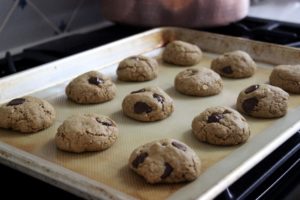 5. Remove to wire rack to cool completely. Store at room temperature in airtight container for several days.