I've had a peanut butter cookie on my site for years, and it's good, but when I wanted to make salted peanut butter cookies I found myself consistently going to another website. Why? Because they were better. I adapted a few minor things and have made these countless, and I mean countless times. They're naturally gluten free and always, without fail, get rave reviews. This is a win because I can know my GF husband will get to partake in the dessert I make but no one else has to suffer.

So, what did I change from Smitten Kitchen's (and before her, Ovenly's) recipe? Just the chilling method and the mixing method. Though I originally just stirred it all together like they said, I couldn't shake the brown sugar clumps and then later, if I didn't get the peanut butter mixed in all the way, I had one or two cookies that would be misshapen. Getting out my hand mixer was easy enough and took care of this.
Next, though their recipes said to freeze the dough for 15 minutes, I found that by extending that time and chilling in the fridge instead, the dough chilled through more consistently, which then lead to better striation marks (which caught the salt so well). I've used both sea and kosher salt, and like them both the same (just don't use table salt). Don't have a cookie scoop? It makes all the difference for this particular cookie and makes cookie baking in general a lot more pleasing. Lastly – I usually use plain old Skippy peanut butter so that's what I recommend.
Salted Peanut Butter Cookies
Makes 3-4 dozen small cookies
1 3/4 c. light brown sugar
2 large eggs
1/2 tsp. vanilla
1 3/4 c. peanut butter (not natural style)
kosher or sea salt to sprinkle
1. In a medium mixing bowl, beat brown sugar and eggs with electric mixer until blended, about 1 minute on low speed.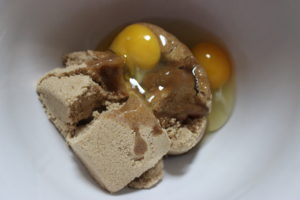 2. Add vanilla and peanut butter and continue mixing on low until evenly and smoothly combined, about 1 minute.
3. Cover dough and refrigerate at least 30 minutes.
4. Preheat oven to 350 degrees and line baking sheet with silpat or parchment paper.
5. Scoop batter with a 1 inch spring-released cookie scoop or roll into balls (tablespoon amounts). Sprinkle lightly with salt, and place in preheated oven.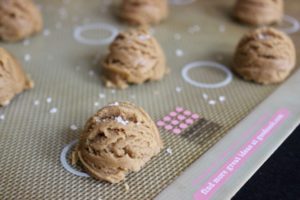 6. Bake for 10 minutes on the center rack of the oven. Let cool on baking sheet at least five minutes before gently moving to wire rack to cool completely.