Notice this is not "baked enchiladas". That would be entirely different and most definitely more time consuming, what with all the filling and rolling. This is another one dish dinner, and though I made mine cheesy (it can be downright depressing to avoid both gluten and dairy), I'll tell you how easy it would be to make dairy free. Making to give away? Transfer to a disposable pan before adding the cheese and send with whole wheat tortillas or brown rice, depending on their sensitivities, and maybe a salad (though this dinner is chockfull of veggie goodness). 
Whenever I make a meat with sides for dinner, I find myself doing more dishes than I'd like. One pot dinners are my jam. Ok I usually bake my rice, so there's that, but I toss that pan right in the dishwasher. You have to be okay with your food touching, which I most definitely am. At Thanksgiving I give myself a personal challenge to get the turkey and every side on every fork-full.
My kids love tacos, and if I wrap up dinner in a tortilla they are 85% less likely to complain about it. This "bake" was no exception. I ate mine over a bit of brown rice, Rich ate his over a LOT of brown rice, and the kids ate their's rolled in a whole wheat tortilla – all the better to hide the sweet potatoes, beans and broccoli their little bodies were unknowingly taking in. Who needs a side with all those veggies? If you want to avoid the cheese, just don't add the cream cheese and cheddar. You'll have a gorgeously healthy miss-mash of protein and veggies, full of fiber and nutrients (add the dairy and the goodness will still be there, it will just be swathed in creamy cheesy deliciousness). Would I make this for company? No – it's healthy AND it's ugly. But for a weeknight family dinner, this a definite make again.
Turkey Sweet Potato Enchilada Bake
Serves 4
Brown rice, for serving*
1 lb. ground turkey
1/2 tsp. salt
1/4 tsp. pepper
1/2 tsp. dried oregano
1 tbsp. olive oil
1 onion, diced
2 c. finely diced, peeled sweet potato (about two potatoes)
2 c. small broccoli florets
1 (15 oz) can black beans, drained and rinsed
10 oz. can enchilada sauce
1/2 c. salsa
1/4 c. light cream cheese
1 1/2 c. shredded sharp cheddar
*Combine 1 1/2 c. brown rice, 2 1/2 c. boiling water, 1 tsp. salt and 1 tbsp. olive oil in an 8×8 inch baking dish. Cover with foil and bake in 375 degree oven, 1 hour. Fluff with fork.
1. In large, oven proof (most skillets are oven proof unless it has a wooden handle) nonstick skillet, cook turkey, breaking up as you go, until no longer pink. Add salt, pepper and oregano and stir to combine. Remove to bowl.
2. Add oil to now-empty pan and add onion and potatoes. Cook over medium high heat, stirring frequently, until tender. Add broccoli and cook about 5 more minutes until broccoli is tender.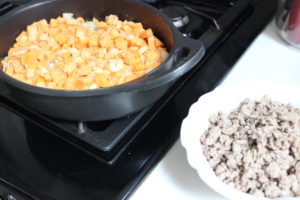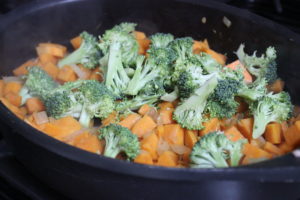 3. Add beans, meat, sauce, and salsa and stir to combine. Add cream cheese and stir to combine. Top with cheddar and broil until cheese is melted and golden. If making ahead, top with cheese and cover with foil. When ready to eat, heat in 350 degree oven, still covered, about 20 minutes then broil (uncovered) till cheese is golden.