I've had a revelation! We should all eat like babies. Seriously, babies have wonderfully healthy diets. They don't eat sugar, they enjoy small portions of high fat dairy, lean meat and fish, whole grains, and fruits and veggies. It's seriously the way we all should eat! These muffins pass the baby health test (as well as the taste test), which means they are FANTASTIC for you. Yes YOU, not just your kids.
As meal times get busy with kids, it's easy to provide quick "filler" foods like pretzels, crackers, or puffs for them to snack on. While some brands are better (lower sugar, whole grain) than others, they're still filler foods that provide calories for little to no nutrition. The more space filled with fluff, the less there is for the good stuff. I made these muffins for Tess when she was about nine months old and am sad I didn't remember the recipe earlier and make them for little Leo. Now with Miss Rosalie, who, like the other two, refuses to be fed with a spoon, the muffins are a Godsend. I keep the muffins frozen and pull out three or four each morning. When it's time to prep her food, I give her a muffin to play with/smash/eat until the rest of her food is ready.
A while ago a friend of mine asked how she could easily lose a few pounds. We discussed her breakfast and snacks, and found baked goods lurking there. I told her – cut out baked goods, especially ones you don't make yourself. Starbucks lowfat pastries are still a BAD choice when it comes to calories. However, the benefit to baking for yourself is that you can manage the nutrition. These regular sized muffins clock in at 130 calories each, with 4 grams of protein and 3 grams of fiber. Eating two for breakfast would be great start to your day!
Muffins for Baby
Makes 12 regular or 4 dozen mini
1/2 c. unsweetened applesauce
1/2 c. pumpkin puree or cooked sweet potato*
2 large eggs
3 tbsp. olive oil
1 tsp. vanilla
1/2 c. milk or buttermilk
2 tbsp. maple syrup
1 c. old fashioned oats
1 c. white whole wheat flour
1 tbsp. baking powder
1/2 tsp. baking soda
1/2 tsp. salt
1 tsp. cinnamon
1/4 tsp. nutmeg
1 tsp. pumpkin pie spice
1/2 c. finely chopped dates
*I've used sweet potato and canned pumpkin. For potato I pierced it with a fork a few times, then microwaved it for 5 minutes. After it cooled, I peeled it and mashed it, then measured 1/2 cup.
**I've made these with Pamela's all purpose gluten-free flour to great results
1. Preheat oven to 375 degrees.
2. Whisk applesauce, pumpkin (or sweet potato), eggs, oil, milk and syrup together in a large bowl until smoothly combined.
3. In a medium bowl, whisk oats, flours, baking soda, baking powder, salt, and spices together to combine. Add in dates and mix to disperse evenly through dry ingredients.
4. Add dry ingredients to wet and mix gently until combined.
5. Spray muffin pan with nonstick spray or lightly grease with oil or butter. Divide mixture evenly into muffin pan.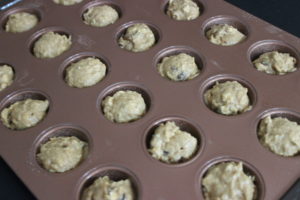 6. Bake for 15-18 minutes for regular (or 10-12 for mini) or until lightly brown and set when you touch the top center.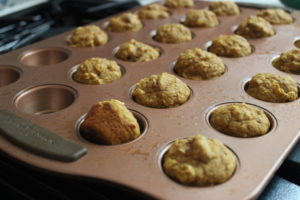 7. Cool about 5 minutes in pan and then transfer onto wire rack to cool completely. When completely cool, store at room temperature in airtight container or freeze in gallon freezer bag. To bring back to room temperature, either refrigerate for an hour or microwave for 30 seconds.