Full title, "chocolate dunked almond cookies, naturally gluten and dairy free". Didn't want to throw you off with a long-winded title. I've posted two desserts lately but this was the only recipe from Christmas that I wanted to make sure I remembered, so here I go. 
I love almond macaroons and pignoli cookies and from any bakery, they're always my choice. Turns out they're naturally gluten (AND dairy) free. This is hard to come by with baked sweets. It was difficult for me to find a recipe online for these, and I tweaked what I found, but these were a big hit at Christmas. I mean, everyone else liked them fine, but I LOVED them. So they were especially a big hit for me. They take a bit of time, what with the shaping, but the dough comes together incredibly quickly so at least they're easy on the front end.
These, along with the peanut butter blossoms (also GF and dairy free if you put some deep dark chocolate in the middle instead of a Hershey Kiss) made a beautiful tray to bring to parties with the GF label. I know my husband always appreciates this and hopefully other folks do too. That being said, if you're NOT GF you should still make these. They're chewy in the middle with crisp edges and not too sweet, so with the bittersweet chocolate they're just perfect.
Chocolate Almond Crescent Cookies
8 oz. almond paste
1 c. almond flour
1 c. powdered sugar
2 egg whites, divided
1/2 tsp. almond extract
1 c. sliced almonds
1/3 c. bittersweet chocolate chips
1. In a standing mixer or mixing bowl, combine almond paste, almond flour, 1 egg white, and almond extract. Beat with standard beater attachments or paddle (on standing mixer) for a minute or two or until batter is evenly combined.
2. Scrape dough onto plastic wrap, wrap tightly, and refrigerate at least 30 minutes or up to several days.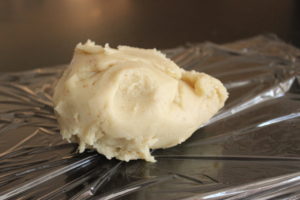 3. Preheat oven to 350 degrees and line baking sheet with parchment or silpat. Beat the remaining egg white with a fork in a small bowl, about 10 seconds. Spread almonds on a dinner plate.
4. Section dough into 1 inch chunks. Roll each chunk into a "slug" shape, like a play dough snake with slightly tapered ends.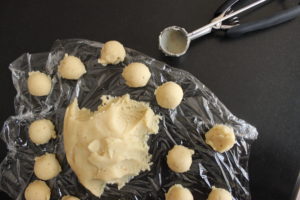 5. Dunk each "slug" in egg white then roll in almonds. Place about 2 inches apart on baking sheet.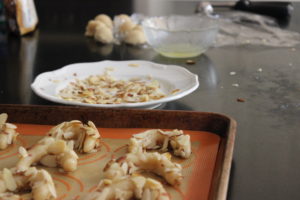 6. Bake cookies for 15-18 minutes or until light golden brown. Let cool slightly.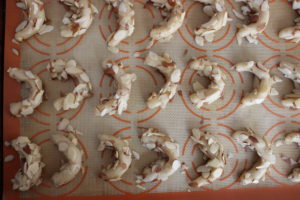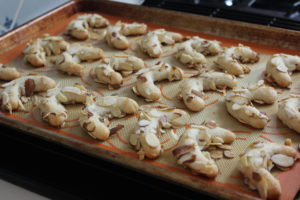 7. Heat chocolate chips in small bowl in microwave. Stir to melt. Dunk ends of cookies in chocolate and return to cooled sheet pan to set. Drizzle any remaining chocolate over cookies with tines of a fork, if desired.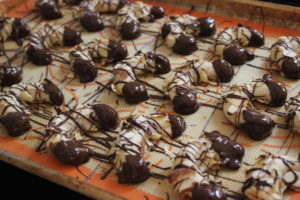 8. Cookies will keep at least three days at room temperature.