I just love scones – and apparently I really love cranberry orange scones. I think there are four different versions on my site. This particular version is a favorite because it makes 16 decent sized scones; when I was having 6 women over in the afternoon I knew I'd have enough for anyone to have seconds and my daughter to have something sweet to come home to.
These are just the consistency you want in scones – craggy, crisp exterior with a tender and just sweet enough interior. Now, scones are best eaten within a few hours of being made. I use my freezer to make life a thousand times easier. When I need them for a morning event (or heck, even afternoon) I'll make the dough to the point of going into the oven some time days (or weeks) ahead. I flash freeze them by putting them on a baking sheet to freeze then gathering them in a ziplock gallon bag once frozen. Then, I bake directly from frozen! Works just the same, though sometimes they will need a few extra minutes in the oven.
Do you feel intimidated by scones? I would have, too, had I not had to teach high school students how to "cut in" three classes a day, two semesters a year, for five years. Once you get it, you've got it, and any scone, biscuit, pie crust, or streusel topping will become an easy part of your culinary repertoire. You basically pinch the butter lumps into the flour repeatedly. Just keeping pinching until no large lumps remain and the mixture looks like coarse cornmeal. The pictures below should help, but don't be afraid to try youtube because I'm sure some smart person has put a very clear video up.
Big Batch Glazed Cranberry Orange Scones
Makes 16
3 c. all purpose flour
1/3 c. sugar
2 1/2 tsp. baking powder
1 tsp. salt
1/2 tsp. baking soda
zest of 1 orange
3/4 c. unsalted, chilled butter (1 1/2 sticks)
3/4 c. dried cranberries
1 c. Â + 2 tbsp. buttermilk
Glaze
2 tbsp. freshly squeezed orange juice
Powdered sugar
1. Preheat oven to 400 degrees. Whisk flour, sugar, baking powder, salt, baking soda, and orange zest together in a mixing bowl.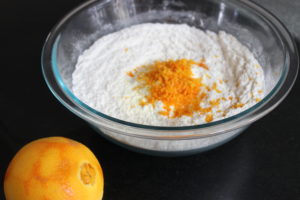 2. Cut in butter until mixture resembles cornmeal and sticks together when pinched.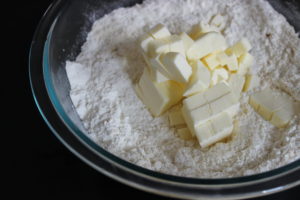 3. Stir in cranberries. Stir in buttermilk until dough comes together.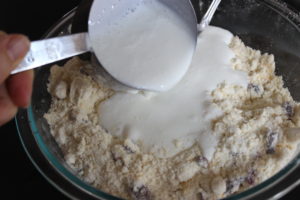 4. Turn out dough onto floured countertop and knead gently to bring together. Divide dough in half and pat each half into rounds – about 1 inch high.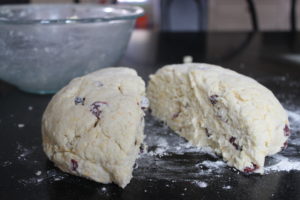 5. Slice each round into 8 triangles and place on silpat or parchment lined baking sheet. If freezing, see above.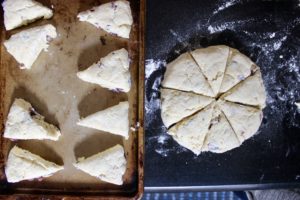 6. Place in preheated oven for 15-20 minutes or until beginning to brown. Remove and let cool while making the glaze.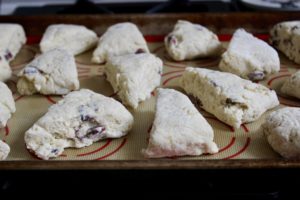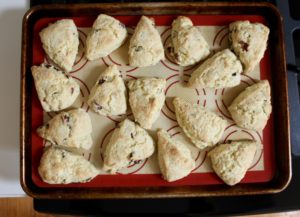 7. To make glaze, squeeze juice into a mixing bowl. Gradually whisk in powdered sugar (about 1 c.) until glaze is to desired consistency. Add more juice or more sugar depending on how you want the consistency to be. Depending on thickness of glaze, dunk each scone upside down into glaze or spoon onto tops and spread. Serve immediately.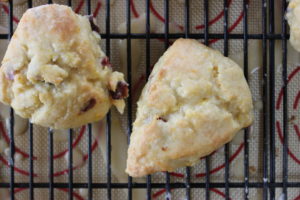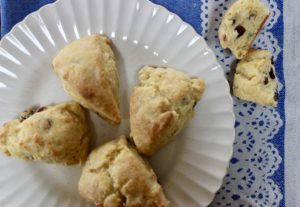 *You can also freeze once baked. To freeze, let cool completely. Place into freezer on wire rack. Once frozen, group together into ziplock freezer bag. To reheat, place on pan in 300 degree oven until warmed through.