The colors are Christmas but the flavors are pure springtime. Though this would be perfect as a side with basic grilled chicken or sausage, it's high enough in protein (thanks to the cheese and beans) that you can bring the leftovers to work for a stand-alone lunch. Have a problem with gluten? Try this with quinoa or brown rice. If dairy is the issue this would be delicious with goat cheese, which many people can tolerate on dairy-free diets (obviously it's a dish that's easy to customize). Orzo Salad with Asparagus and Mozzarella
Serves 6
1 lb. asparagus, tough ends trimmed and chopped into 2 inch pieces
3 tbsp. extra virgin olive oil, divided
1 c. orzo
8 oz. ball fresh mozzarella, diced
¼ c. finely chopped sundried tomatoes
1 c. canned cannelini beans, drained and rinsed
1 tsp. balsamic vinegar
½ tsp. kosher salt
¼ tsp. black pepper
1 clove garlic, minced or pressed
1/4 tsp. dried oregano
¼ c. thinly sliced basil leaves
1. Preheat oven to 425 degrees. Spread asparagus on foil lined baking sheet and toss with 1 tbsp. of the olive oil. Sprinkle with kosher salt and pepper.
2. Roast for 10-12 minutes or until bright green and turning golden on the edges.
3. Remove from oven and let cool. Meanwhile, boil 4 c. water in a saucepan. Add orzo and simmer for 10 minutes. Drain and rinse with cold water to stop the cooking. Let cool slightly.
4. Place mozzarella, tomatoes and beans in mixing bowl. Add asparagus and orzo.
5. Add remaining two tablespoons olive oil, vinegar, salt, pepper, garlic, oregano and basil and stir to combine.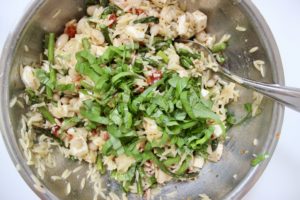 6. Serve room temperature or cold.