OK, so scones are the best. In college I used to end almost every day with a cinnamon chip scone and a chai latte (and then I gained ten pounds). For other people it was beer, for me it was scones. They still have a place in my life, but more like 1 every few weeks. Nothing beats a warm, fresh scone. I will tell you how to make them ahead and freeze them so they're ready to go when the occasion calls.
First of all, this recipe makes 8 large (Starbucks sized) or 16 smaller. I always make them smaller because then people don't break them apart, trying to be "good". I make them, cut them, and freeze them on a cookie sheet or cooling rack (either works, just use what fits better in your freezer). Once frozen through (takes about fifteen minutes) I combine them in a gallon sized freezer ziplock bag. Then, when it's time to bake, place them frozen on your prepared baking sheet, no need to thaw. They will bake for the longer time in the range (12-15) minutes but they bake up perfectly.
I do this with every scone recipe, but I can vouch for this one because I just made it this morning. Baked them this morning, that is, but I made them last night and froze them. This recipe is particularly easy to work with because it's a drier dough; much less sticky than others I've made. If you're a scone newbie, try these. So good.
Cranberry Orange Scones
Makes 16
2 c. all purpose flour
1 tbsp. baking powder
3 tbsp. sugar
½ tsp. salt
5 tbsp. cold, unsalted butter, cut into ¼ in. cubes
1 ½ tsp. orange zest
¾  c. dried cranberries
1 c. heavy cream
1. Heat oven to 425 degrees (if baking them immediately).
2. Combine flour, baking powder, sugar and salt and whisk to blend.
3. Add butter and cut in – this means to mash the butter into the dry ingredients with your hands until you can't feel any more butter lumps.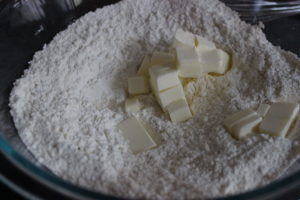 4. Stir in zest, then cranberries.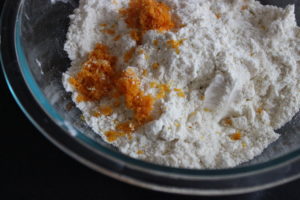 5. Stir in the cream with a rubber spatula until a dough forms.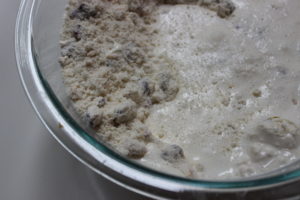 6. Transfer dough to lightly floured counter-top and knead briefly to form a cohesive dough (5 to 10 seconds, max).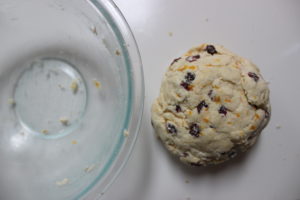 7. Cut dough in half and form a round with each half, about 6 inches in diameter, 1 1/2 inches high.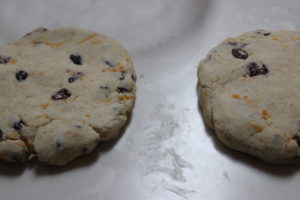 8. Cut into 8 wedges (16 total).
9. At this point, if planning to bake later, freeze individually on a greased cookie sheet, then place in a ziplock freezer bag once completely frozen.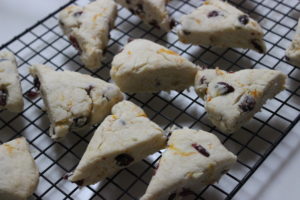 10.   If you want to bake immediately, place wedges on a parchment or silpat lined baking sheet. Brush the tops with milk, half and half or cream and sprinkle with coarse sugar. If baking from frozen, place directly onto cookie sheet from freezer bag, and brush top with milk/cream and sugar like you normally would.
12.   Bake 12 to 15 minutes.