I've had these on my site for years now – at least 4. I made them to bring to Thanksgiving one year and they stole the show. Since then I've made them for most of the family holidays, but I wasn't so sure if I could pull my act together when I was the host of the big turkey day, knowing full well I could buy some delightful rolls at the grocery store.
Some things are just worth the work. These rolls are one of those things. I've learned that yeast recipes are my absolute favorite thing to make. There's nothing like creating something (something beautiful) from nothing… just a smattering of ordinary ingredients that, when handled correctly, become the most soft, tender, flaky white dinner rolls I've ever had. Like, better than any restaurant. I know in these times of "whole foods", "whole grains", and the general eschewing of gluten, white fluffy rolls don't seem to have a place. I'm not suggesting that you make these on a weekly basis, but something this amazing deserves a place in everyone's life.
Though I made them fresh for Thanksgiving (hence the reason for the lack of pictures – I started my day with these before 7 am), the best part about them is that they can easily be made ahead. They can be frozen for a few weeks, so get cooking and when Christmas dinner rolls around (pun intended), they'll be waiting.
Dinner Rolls
Makes 28 small rolls
3 tbsp. unsalted butter
1 1/2 c. whole milk
1/3 c. honey
1/4 c. shortening
5 1/2 c. all purpose flour
1 tbsp. yeast (rapid rise or active dry will both work)
2 tsp. table salt
2 large eggs, divided
kosher salt and dried rosemary for topping
1. Preheat oven to 200 degrees. When it reaches 200 degrees, turn it off. Grease a large bowl with nonstick spray. Line a 12 x 9 pan with foil or parchment paper (let edges hang over sides) and mist with nonstick spray.
2. Place milk, honey, shortening, and butter in a large glass measuring cup. Microwave 1-2 minutes and stir well. Microwave again as needed to fully melt ingredients. Before using, make sure liquid is not too hot, which will kill the yeast. It should feel warm but not hot.
3. If you have active dry yeast, add it to the milk mixture and stir well.
4. Mix 4 1/2 c. flour and salt in the bowl of a standing mixer. If using rapid rise yeast, add it to the flour and salt mixture.
5. Using a dough hook, mix flour/salt while slowly pouring in the milk mixture.
6. When dough comes together, add 1 egg and beat at medium speed for about 2 minutes.
7. Add another 1/2 c. flour and continue to beat. If dough doesn't come away from the sides of the bowl, add the last 1/2 c. flour. Beat dough for 4 to 5 minutes.
8. Turn dough out onto counter and knead briefly to bring together to a smooth ball. Put into greased dish and turn around so that it's covered in the nonstick spray.
9. Cover dough with plastic wrap and place in oven for 1 hour.
10. After dough has risen, put it out onto lightly floured counter and divide into four even pieces. If weighing – 14 oz each. 
11. Next, divide each of the four balls into 7 even parts (making 28 pieces of dough). If you have a scale, each individual roll will about about 2 oz.
12. Roll each piece into a smooth, tight ball and place into prepared 9×13 pan (4 balls on the short sides, 7 on the long).
13. Cover with plastic wrap and put back in the oven for another hour.
14. Remove and preheat oven to 375.
15. Beat remaining egg with 1 tbsp. water and brush over the top of each roll. Sprinkle with kosher salt and dried rosemary.
16. Bake for 25 minutes or until deep golden brown.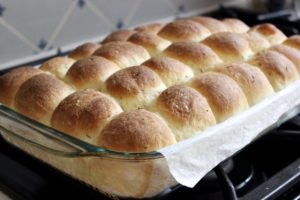 17. Remove and cool on wire rack for 5 minutes. Remove rolls from pan and continue to cool on wire wrack. If freezing, cool completely and wrap tightly in plastic wrap. Next, wrap in foil and freeze for up to 1 month. You could freeze individually or in pairs and pull them out as you need them.
To reheat frozen rolls, remove plastic and foil (reserve foil) from rolls. Wrap in reserved foil and defrost at room temp for 2 hours. Preheat oven to 375 and bake until heated through, about 30 minutes.