My friend Susie sent me this such an embarrassingly long time ago that I won't say it, and now the regret is killing me. Not about Susie, she doesn't care; the regret is that I haven't made this bread every day since she sent it. I had my doubts going into it but now agree completely with the original author; as someone who can eat grains, I'll never make another banana bread.
Remember these peanut butter cookies? They're naturally gluten free and also the best peanut butter cookies I've ever had. Reason being the flour doesn't mute the flavor of the peanut butter. It's the same thing here; almonds and bananas complement each other so well and there's no flour to mute their delicious flavors. This bread came together quickly (and easily – no mixer required), rose beautifully, and was eaten in 24 hours. Seriously. Rich, Tessa and I ate three quarters of it within the first 15 minutes it came out of oven. Guys, it's so good. It even has the consistency of typical banana bread – a bit cakey/bready, like it was made with wheat flour. I literally can't wait to make it again.
A word on bananas. To make banana bread you need bananas that are overly ripe. If you don't want to eat it, it's probably ready to bake with. Lots of spots. What I do is buy bananas (especially when they're on that rack of "reduced for quick sale") specially for this purpose and let them get nice and spotty (like, 12 bananas at a time). Then I mash three bananas on a plate and bag them in a ziplock sandwich bag. I continue on and make three more bags, then freeze them flat in the freezer (better for stacking). Most recipes for bread or muffins call for three mashed bananas, so I store them this way. I throw a bag on the counter when I want to bake, and within about an hour it's ready to go.
Almond Flour Banana Bread
Makes 1 (10 inch) loaf
Adapted slightly from Live Simply
2 1/2 c. almond flour
1 1/2 tsp. cinnamon
1/4 tsp. nutmeg
1/2 tsp. kosher salt
1 tsp. baking soda
3 large eggs
1/2 c. honey
1/4 c. nonfat Greek yogurt
3 bananas, mashed
1 tsp. vanilla
1/2 c. toasted walnuts, finely chopped
1. Preheat oven to 350 degrees. Whisk flour, cinnamon, nutmeg, salt and baking soda in a large mixing bowl.
2. In a smaller bowl, whisk eggs to break them up. Add honey, yogurt, bananas, and vanilla and whisk to combine smoothly.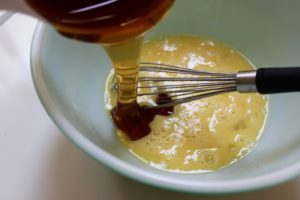 3. Add wet ingredients to dry and stir together until blended. Add walnuts and stir in.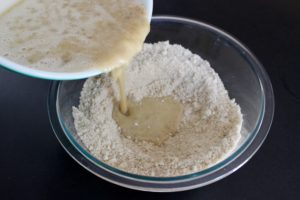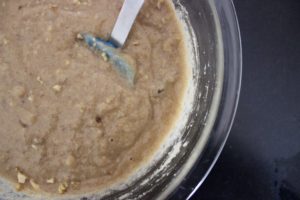 4. Spray a 10 inch. loaf pan with nonstick spray and line with parchment (with paper overhanging the long sides, making a sling).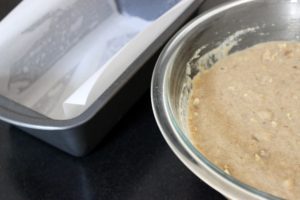 5. Add batter to pan and place in preheated oven. Bake for 55 minutes. Let cool in pan about ten minutes. Remove from pan and let cool completely on wire rack. Slice and serve.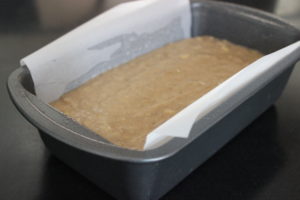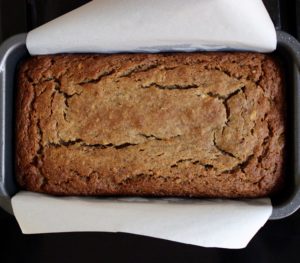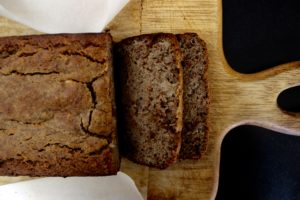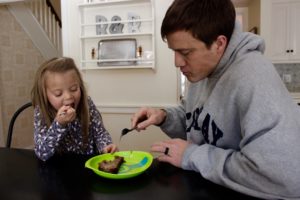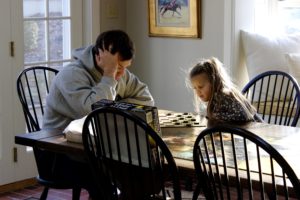 The bread fueled a mean game of checkers