I have so many thoughts. First, I was always hesitant to try pumpkin chili because it sounded gross. In my mind there was pumpkin pie mashed with meat and beans. My church and cooking gal pal Heather had it on her site, here, and wanted to see if I had any suggestions. I trust her cooking, so I figured it was worth a try. I followed her blueprint but added here and there as necessary. The end result floored me, not because it was so good (which it was) but because you literally cannot taste pumpkin – it just has a more creamy consistency (minus any dairy) which makes it pretty awesome.
This makes a great big batch, which I love, because I can get another night's dinner out of it (oh did you think I was just-so-excited about cooking nightly dinners? Silly). It's also gorgeously healthy. Fabulously, beautifully healthy. Bell peppers, garlic and onions, tomatoes, pumpkin (its a squash, crazy source of vitamins A and C), ground turkey (I used organic from Costco) for protein and a trio of beans (beans are the best).
As I said, the pumpkin flavor disappears, but if you'd like to have a touch of it, make the pumpkin cream to go on top. It's just three ingredients and truth be told, I used Greek yogurt for mine. My kids gobbled this up (no cream for them, just chips and cheese) and my husband absolutely loved it. Thank you, Heather, for a wonderful recipe! Try mine and let me know your thoughts.
Pumpkin Turkey Chili
Serves 8
1 1/2 lb. ground turkey
1 medium onion, diced
1 red bell pepper, seeded and diced
1 green bell pepper, seeded and diced
3 cloves garlic, minced or pressed
2 tbsp. chili powder
1 tsp. cumin
1/2 tsp. kosher salt
1/2 tsp. black pepper
2 tsp. dried oregano
1 (15 oz) can pure pumpkin, divided
1 (15 oz) can petite diced tomatoes, strained
2 c. chicken broth
1 (15 oz) can black beans, drained and rinsed
1 (15 oz) can pinto or small white beans, drained and rinsed
1 (15 oz) can kidney beans, drained and rinsed
Juice of 1 lime
1/4 c. finely chopped cilantro
1/2 c. sour cream/Greek yogurt
Cilantro, corn chips or cheese (if desired)
1. Heat a dutch oven or soup pot over medium high heat. Add meat and saute until no longer pink.
2. Remove from pot, leaving fat (if you used turkey breast, add 1 tbsp. olive oil to pan).
3. Add onion, peppers and garlic. Saute until softened, about 8 minutes, stirring occasionally.
4. Add chili, cumin, salt, pepper and oregano. Stir and let cook, 2 minutes.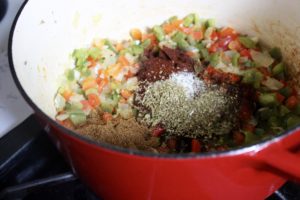 5. Remove 3 tbsp. pumpkin to a small bowl. Add remaining pumpkin and stir to combine.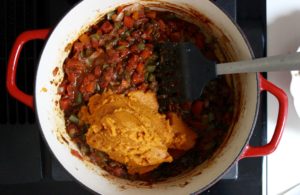 6. Add tomatoes and chicken broth. Stir to combine.
7. Add beans and add meat back to pot. Stir to combine. Bring to boil and reduce to simmer. Simmer about 30 minutes to meld flavors.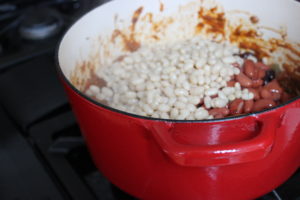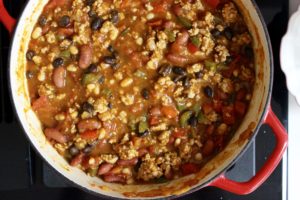 8. Meanwhile, add sour cream to pumpkin in small bowl. Stir until smoothly combined and add salt to taste.
9. Remove chili from heat and add lime juice and cilantro. Taste for salt. Serve, with cream on top along with cilantro, chips or cheese (if desired).