As I write this post there is a quarter of this pie in my fridge and its all but shouting my name. I can almost hear it through the door. I've texted my neighbor to tell me the second they get home so I can bring them what's left of the goodness before I eat it all, fork in hand, fridge door ajar. The two pieces I had last night along with the one this morning were scrumptious but I need help not going overboard (turns out I don't have a lot of self control). 
Enjoy making pie but want to serve more than 8 people (and in a neat and orderly fashion)? Enter this pie, no doubt originally intended for potluck church picnics. My friend Susie has had this recipe from her grandmother, Grandma Mary  (her sister has it framed and hanging in her house) but hadn't gotten around to trying it yet. I'm not only honored to have gotten to make it first, I'm delighted I have a new recipe to make for company! I mean, really, who doesn't love an apple pie? This is basically that, but with the flakiest of crusts (thank you shortening – and don't worry, it's made trans fat free nowadays), a higher crust to filling ratio, and a to-die-for powdered sugar glaze. Yum. A tip – Crisco makes sticks for baking and I recommend them, just because measuring shortening is the worst. Look on the package to make sure but a cup of shortening is one stick.
Apple Slab Pie
"Apple Squares", Grandma Mary
Serves 12
Crust
2 1/2 c. all purpose flour
1 1/4 tsp. kosher salt
1 c. shortening
1 egg
milk
Filling
8-9 Macintosh Apples, cored, peeled and thinly sliced
3/4 c. sugar
2 tbsp. all purpose flour
1 tsp. cinnamon
pinch salt
4 tbsp. butter, diced
1 egg white
Glaze
1 c. powdered sugar
1/8 tsp. cinnamon
2 tbsp. milk
1. Preheat oven to 450 degrees. To make crust, whisk flour and salt in a large mixing bowl. Add shortening and cut in, using fingertips or a pastry blender.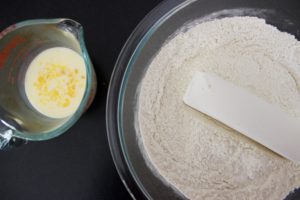 2. Crack egg into liquid measuring cup and add milk until mixture measures 1/2 c. Â (you should need about 1/4 c. milk). Whisk with a fork to blend.
3. Add egg mixture to flour/shortening and mix with a fork until dough comes together. Divide dough in half.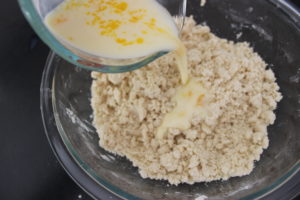 4. Cut 4, 18 inch sheets of waxed paper. Sandwich each half of dough between two sheets of paper. Roll out to make a rectangle, roughly 10 inches by 18 inches. Keeping dough between sheets of waxed paper, place in the fridge to chill.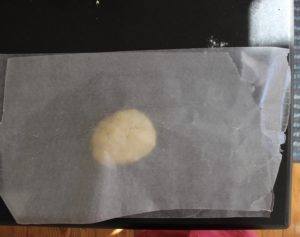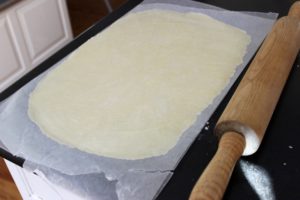 5. Mix apples, sugar, flour, cinnamon and pinch of salt in a large mixing bowl until evenly coated.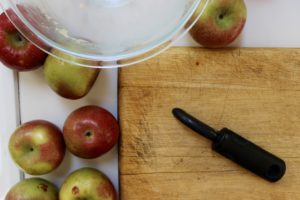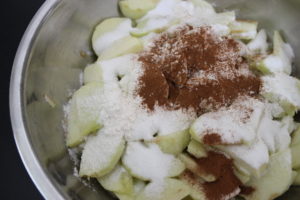 6. Remove the larger (if one is larger) sheet of dough. Lightly mist a 9×13 inch baking dish with nonstick spray. Remove the top sheet of paper and turn the dough (dough side down) into pan. Remove paper and arrange dough into dish.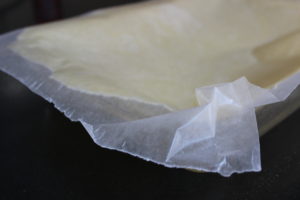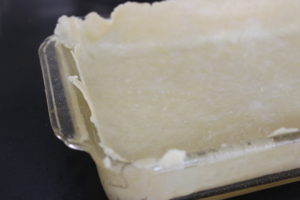 7. Add filling and tuck apples evenly into edges of dish, then spread the rest evenly. Dot with diced butter.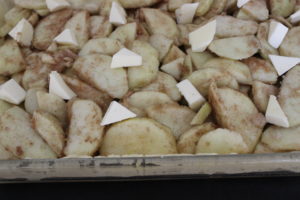 8. Remove one sheet of paper from second dough and place dough (dough side down) over filling. Attempt to press edges of dough together as best as possible.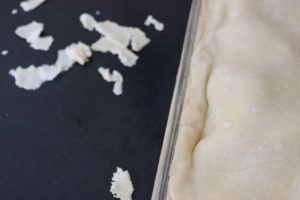 9. Brush dough with egg white and prick with fork across the surface.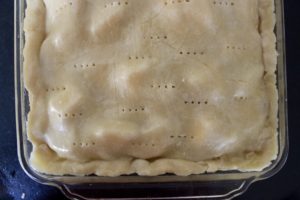 10. Place in preheated oven and bake for 15 minutes. Keep pie in the oven but reduce oven temperature to 375 degrees. Bake for 30 minutes.
11. Pie should be golden brown. Remove and let cool at least 10 minutes.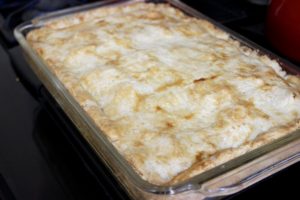 12. Meanwhile, whisk powdered sugar, cinnamon and milk until smooth. Drizzle over pie and smear to evenly cover. Let cool 20 minutes longer, cut into squares and serve.