Ever since I ate this squash recipe I've been jonesin' for a repeat. The first batch of squash I bought at the Grower's Market went funky and I threw them into the backyard in a big fat huff. I then realized that farmer's market squash was grown locally and has been stored for months (since fall). I added a few squash to my Giant list and here we are. 
A different version, and one that's absolutely packed with veggies. The salty filling pairs so well with the sweet, creamy squash and the cheese is a nice, mild addition to it all (I love me some melted mozzarella). There are a ton of places for you to customize this, if you like. The bell pepper can be swapped for corn or even broccoli (finely chopped), you can sub the meat for something like turkey sausage, and go nuts with the cheese (swiss, cheddar, really anything will work).
Serves 3-6? I know that's confusing. This batch served my family of four and left some for my lunch the next day. That being said, if three hungry adults sit down and each want two halves, then it only serves 3. Now, if you plan on serving other sides (brown rice, salad) you could stretch it to 6 – one half per person. I liked this so much I'd consider making it on Sunday and eating scrumptious, gorgeously healthy lunches every day.
Southwestern Stuffed Acorn Squash
Serves 3-6
3 acorn squash, halved stem to tip and seeds scraped out
2 boneless skinless chicken breasts
1 tbsp. olive oil
1 white onion, diced
1 c. chopped bell pepper
3 cloves garlic, minced
1/2 tsp. kosher salt
1/4 tsp. black pepper
1/2 tsp. chili powder, cumin, oregano, and brown sugar
1 (15) oz. black beans, drained and rinsed
2/3 c. prepared salsa
2 c. shredded mozzarella cheese, divided
Cilantro, optional, for garnish
1. Heat oven to 425 degrees. Line a baking sheet with foil and spray with nonstick spray. Place squash, cut side up, onto foil. Spray with nonstick spray and sprinkle liberally with salt and pepper. Roast for 45 minutes. Remove and let cool.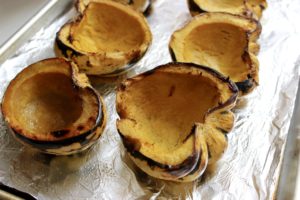 2. Bring small pot of water (about 1 qt) to boil. Add chicken breasts; reduce heat to a bare simmer and cook ten minutes. Remove and shred or dice.
3. Heat oil in nonstick skillet over medium high heat. Add onion, bell pepper and garlic and saute 5 minutes or until softened.
4. Add salt, pepper, chili, cumin, oregano and brown sugar. Stir and let cook 1 minute.
5. Add beans, chopped chicken, salsa and 1 c. of the cheese. Stir to combine.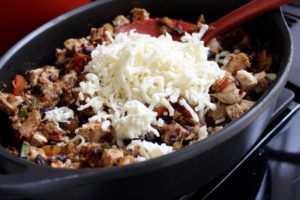 6. Heat oven to 325 degrees. Fill cavities of squash with filling and top with remaining cheese.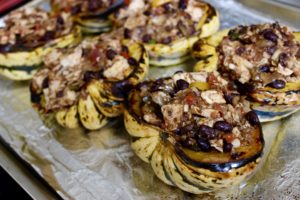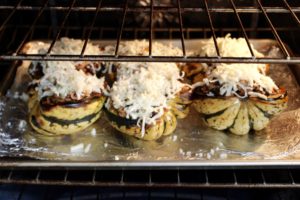 7. Bake for about 10 minutes or until cheese is melted and mixture is heated through. Serve, topped with optional cilantro as garnish.