Truth be told, I don't know the difference between shortbread and butter or sugar cookies. I do know what shortbread tastes like, though, and these cookies taste like shortbread. Buttery as all get out.
These are best cut nice and thick (1/4 inch to be exact, which is a bit thicker than your typical rolled dough). I like these for their simplicity; at certain events, like a shower or a tea, I stay away from the double-stuffed-cream-cheese-mint-brownie type treats. Why? There is fruit on my plate, salad greens, an egg casserole of some sort. A simple shortbread cookie is that bite of sweet at the end that doesn't steal the show, it just perfectly closes it. As far as cookies go, shortbread is all class.
Shortbread Cookies 
1 c. unsalted butter, softened
3/4 c. sugar
 1 tsp. salt
2 c. all purpose flour
Optional Glaze 
1Â 1/2 c. powdered sugar
1 tbsp. fresh lemon juice
1. In a standing mixer or medium bowl (with handheld mixer), cream the butter and sugar 3-5 minutes or until pale and fluffy.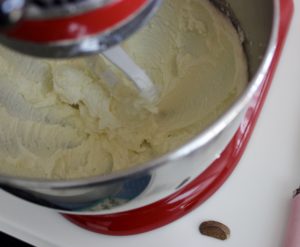 2. Add the flour and salt and mix on low speed until the mixture comes together.
3. Transfer to a lightly floured, clean counter and roll with a floured rolling pin to about 1/4 in. thickness.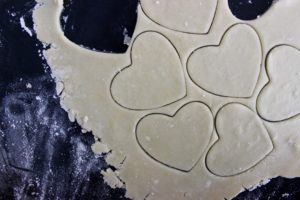 4. Using a floured cookie cutter, cut shapes and then re-roll scraps, cutting as many shapes as possible from dough. Transfer to a plate or cookie sheet and freeze until very firm, about 15 minutes.
5. Preheat oven to 300 degrees.
6. Transfer cookies to silpat or parchment lined cookie sheets and bake for twenty minutes or until cookies are set.
9. Cool cookies completely on wire rack.
 10. While cookies cool, make glaze if desired. Place powdered sugar in a shallow bowl and add lemon juice. Whisk, and add water as necessary to thin glaze to desired consistency. Glaze and let sit at least 1 hour before storing, partially covered, at room temperature.