I read the concept for this delicious side dish in Ina Garten's new book, but I streamlined the technique according to this sausage and cheese stuffed zucchini I made last year. Now a twenty minute side dish, it's quickly become my favorite way to cook zucchini (that is, aside from my fave soup). 
Do you cook in order to have leftovers or to make just enough for each person? Most of my friends fall into one category or the other. I'm somewhere in the middle – depends on what I make (except when entertaining and my fear of running out of food spurs me on to make enough for the entire neighborhood). The first time I made this dish I only made enough for us four. I put it on the kids plate and then gave my husband the larger portion, knowing I'd probably end up eating the leftovers my kids didn't like. Well what do you know, the kids ate every bite and my husband didn't leave a scrap behind. I had one measly half! Not enough – I wound up scraping the spilled filling off my husbands plate for a final few tastes. It's so good – garlic, herbs and parmesan cheese with a beautifully crunchy bite.
If you wanted to make this for company (it's certainly fancy enough for company, though quick enough for weeknights) you could prep the filling ahead and even cook the zucchini through step 3. Spoon the filling in, cover with foil, and bake when dinner's almost ready. Since it's pretty good at room temperature as well, it would work great for a summer BBQ, starring July's most prolific farmer's market veggie.
Crispy Garlic Parmesan Zucchini Boats
Serves 4-6
4 medium zucchini
1 tbsp. olive oil
Kosher salt and pepper
Filling
1/4 c. chopped fresh basil
1/4 c. chopped fresh parsley
3 garlic cloves, minced
1/2 c. panko bread crumbs (GF if necessary)
1/2 c. parmesan cheese, ideally freshly grated
1/2 tsp. kosher salt
1/4 tsp. black pepper
1. Preheat oven to 425 degrees. Cut zucchini in half and scrape out a small divot, lengthwise (mostly just seeds).
2. Arrange zucchini, 4 at a time, on a dinner plate. Microwave for 4 minutes. Repeat with remaining zucchini halves.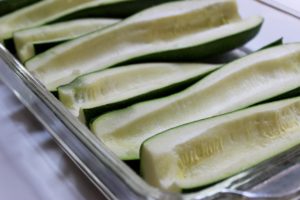 3. Arrange halves cut side up in 9×13 baking dish. Brush with 1 tbsp. olive oil and sprinkle with several pinches of kosher salt and black pepper. Bake for 10 minutes.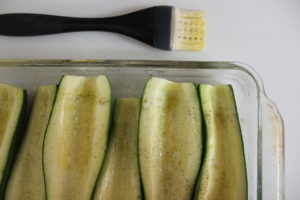 4. Meanwhile, combine filling ingredients until well blended. Fill zucchini evenly with filling, using a small spoon. Bake for 10 more minutes or until filling is heated through and crunchy.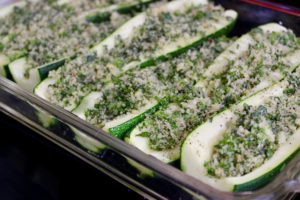 5. Serve warm or room temperature.