So what's the difference between a coffee cake and a buckle? Namely, blueberry buckle that's been on my site for years and is a family (and then everyone who makes it afterward) favorite? Well, I don't actually know. What I do know is that this version is better. There, I said it. But I have my mother's blessing in saying it, because she was the one who made this first. We ate it together, and made the nervy declaration together. Now it's your turn to give it a try. This is "healthier" in my book than the original, as it uses a bit of whole wheat flour, butter instead of shortening, and almonds in the crumb topping. The cake itself is so gorgeously moist and flavorful (thanks to the lemon zest and cinnamon) that I didn't find it necessary for each bite to have crumb topping involved, which is the game I play when eating our traditional buckle. I also liked that this called for less blueberries – one pint should do the trick.
We ate this at my mom's house down the shore and my daughter has been begging for it ever since. It's not the sort of thing my pregnant self can bear to have in the house, so we ate our fill and then portioned it out to playdate friends and neighbors – all to rave reviews. This is one I don't want to forget, so I'm posting it as much for myself as to share it with you. Lemon/cinnamon/almonds would pair well with so many different fruits, though raspberries and peaches come to mind first. Let me know if you try a variation!
Real quick, what does the word "divided" mean in a recipe? It means you're using that ingredient at two different times/two different applications. So for the "1 3/4 c. blueberries, divided", 1 cup will go into the batter and then 3/4 cup will go on top of the crumbs. Use "divided" as a red warning flag to check your recipe for details.
Blueberry Coffee Cake
Serves 12
Slightly Adapted from Country Home Magazine, circa 2008
1 1/2 c. all purpose flour
1/2 c. white whole wheat flour
2 tsp. baking powder
1 tsp. cinnamon
1/2 tsp. baking soda
1/2 tsp. salt
12 tbsp. unsalted butter, softened
1 c. sugar
2 large eggs
1 c. sour cream or full-fat plain Greek yogurt
Zest of 1 lemon (about 1 tsp.)
1 3/4 c. fresh or frozen blueberries, divided
Topping
1/2 c. all purpose flour
1/2 c. packed brown sugar
1/2 c. slivered almonds, roughly chopped
1 tsp. cinnamon
3 tbsp. butter, diced
1. Preheat oven to 375 degrees. Whisk flours, baking powder, cinnamon, baking soda, and salt in a small mixing bowl until combined. Set aside.
2. Cream butter with electric mixer on medium speed until creamy. Add sugar in a steady stream with mixer running. Turn speed to medium high and beat about three minutes or until light and fluffy.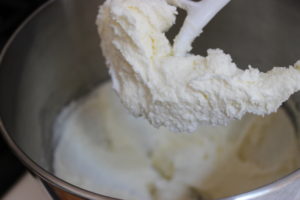 3. Add eggs and sour cream/yogurt and beat until combined.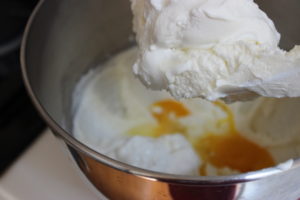 4. Add dry ingredients and beat on low until just combined.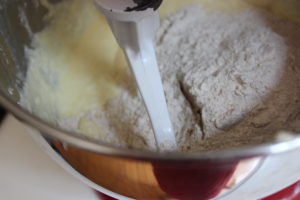 5. Add zest and 1 c. of blueberries and stir to combine (on lowest speed or by hand).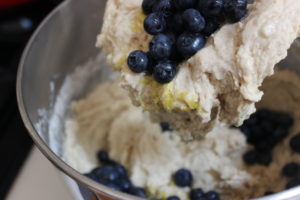 6. Spray a 9 in. springform pan with baking spray (butter and flour) or butter and flour. Add batter and spread to edges.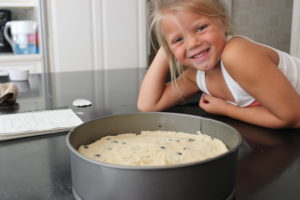 7. Combine topping ingredients in a small bowl. Cut in butter with fingertips, mashing butter lumps until evenly cut in.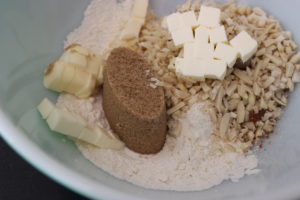 8. Spread crumb topping onto batter. Top with remaining 3/4 c. blueberries, scattering evenly. Place in preheated oven and bake for 65 minutes.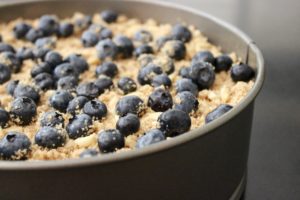 9. Let cool 15 minutes on wire rack and remove edge of pan. Let cool 15 minutes more before serving.