Scones are comforting. Like how mashed potatoes are comforting? That's how scones are to me. They aren't so sweet like a cookie, or bread-y like a biscuit. They are so good with hot tea or coffee, and they're somehow fancy but not the least bit pretentious.
The only issue is that they're best eaten when warm or within a few hours of baking. Well to test the theory for you, I baked some of these straight and froze the rest. I baked from frozen and guess what? Not a single difference. Now I make the scones whenever, put them in a freezer bag, and they're ready to bake the morning I need them.
Roasted pecans, roasted nuts in general, have an amazingly unique flavor. I think these scones taste more like roasted pecans than maple syrup, but the combo is just perfect. If you wanted to "healthify" these, you could swap the heavy cream for half and half and use skim milk. You can't do anything about the butter, though, as they wouldn't turn out. Scones have a lot of butter, they just do. Don't mess with the butter.
Don't normally have nuts around the house? Next time pecans, walnuts, almonds or peanuts are on sale, bag about a cup or two and throw them in your freezer. They will keep a very long time if frozen, whereas if you kept them in the pantry the oils in the nuts would cause them to go rancid after a few weeks. Then when you read a recipe like this one, you will say, I HAVE all of those ingredients!
Glazed Maple-Pecan Oatmeal Scones

Adapted from America's Test Kitchen
Serves 16
1Â 1/2 c. old-fashioned or quick oats
1/2 c. pecans, chopped
1/4 c. milk
1/4 c. heavy cream
1 large egg
1/4 c. maple syrup
1 2/3 c. all purpose flour
2 tsp. baking powder
1/2 tsp. salt
10 tbsp. cold unsalted butter, diced
Glaze
1/2 c. powdered sugar
3 tbsp. maple syrup
1. Preheat oven to 375 degrees.
2. Spread oats and pecans on a baking sheet and toast them until they're lightly browned and fragrant, 5 minutes. Cool on a wire rack. 
3. When you remove the oats/nuts, increase oven temp to 450.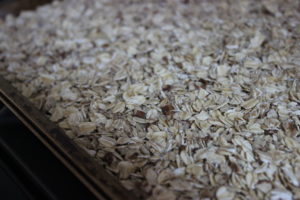 4. Whisk milk, cream, egg and maple syrup in a large liquid measuring cup until well blended.
5. Remove one tbsp. of this mixture to use as a glaze before scones go in the oven.
6. In a larger bowl, mix the flour, baking powder and salt.
7. Scatter the cold butter cubes over the dry ingredients and cut in until no lumps remain and mixture feels like damp sand.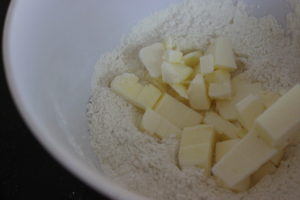 8. Stir the cooled nuts and oats into your dry ingredients/butter mixture.
9. Use a rubber spatula to gently fold in the wet ingredients.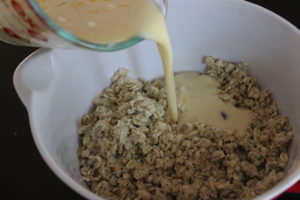 10. Spread a handful of flour onto work surface and dump out the batter. Press and knead the mixture into a large ball, flouring your hands if needed.
11. Cut the ball in half with a large knife. Make two smaller balls.
12. Press the balls into disks, 1Â 1/2 inches high and about 8 in. in diameter.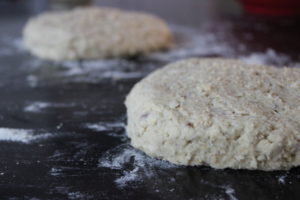 13. Cut them like a pizza, forming 8 triangles on each disk. Dip knife in flour if necessary so that the dough doesn't stick to it.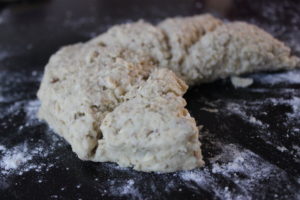 14. Using a flat spatula dipped in flour, transfer each triangle to a cookie sheet lined with parchment paper (or sprayed with cooking spray), spacing them two inches apart.
15. Using either a pastry brush or your fingers, spread reserved 1 tbsp. of milk mixture to glaze the top of each scone. It's at this point you would freeze your scones if baking later. Freeze on a sheet covered with waxed paper (see picture below) for 30 minutes. Remove from tray into gallon sized ziplock bag and freeze for several weeks. No need to add time if baking from frozen. 
16. Bake 12 minutes or until golden brown. Cool 5 minutes on baking sheet and then transfer to a wire rack where they should cool completely.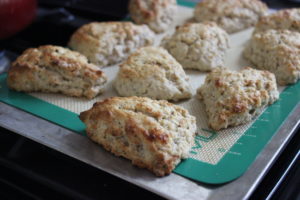 17. While scones cool, mix powdered sugar and maple syrup (for glaze) with a fork. Using a spoon, spread over top of each cooled scone.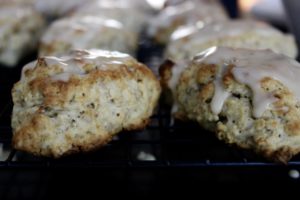 Scones can be stored at room temp in an airtight container up to 2 days, though they're best the day they are made.