I had a recent – well a good couple months back – jonesin' for miso soup. It's a consistent order for me at sushi restaurants and I wanted to make it at home. I made some mediocre soup and forgot about the miso. Turns out this is fine – it's fermented and lasts at least a year (plus, added bonus, like all fermented foods it's high in probiotics). Regardless, I saw a chicken recipe that would do a great job using the rest up, and I'm so glad I did. 
A bit "out there" but great news – my kids gobbled it up without complaint. Garlic, ginger, honey, soy – a wonderful blend of flavors that yielded a chicken dinner that was so far from bland. So what are chicken tenders or tenderloins? As far as I can tell they're just chicken breasts, sliced thin and long. Want to make this with breasts (or even thighs for that matter)? Will work absolutely fine. The chicken itself is great, feel free to skip the sauce if you don't feel like a little extra whisking, but I love me some peanut sauce so I went for it. Plus, you'll see some repeats in the ingredients so you'll already have them out on the counter.
I served this with garlicky sauteed green beans and mentally counted the "sauce" as a second side. This just happens to be gluten and dairy free as well as superbly healthy, so it would make for a great "give away" meal to a new mom or someone in need of a little help.
Miso Chicken Tenders with Peanut Sauce
Serves 4-6
1/4 c. miso paste
1/4 c. rice vinegar
2 tbsp. soy or Tamari sauce
2 tsp. grated fresh ginger
3 garlic cloves, minced
2 tsp. honey
1 tsp. sesame oil
2 lb. chicken tenderloins or breasts
Sauce
1/2 c. creamy peanut butter
1/2 c. light coconut milk
1/4 c. miso paste
3 tbsp. water
1 garlic clove, minced
1 tsp. rice vinegar
1 tsp. sesame oil
1 tsp. honey
1 tsp. soy/tamari
1. Preheat oven to 350 degrees. Whisk miso paste, vinegar, soy/tamari, ginger, garlic, honey and sesame oil in a large bowl. Add chicken and toss to coat. Cover and let marinate 30 minutes, chilled.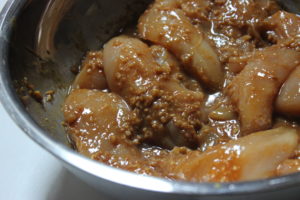 2. Preheat oven to 350 degrees. Spray a 9×12 baking dish with nonstick spray. Add chicken to pan and spread in even layer. Bake for 15 minutes then broil for about 3, until golden brown on top.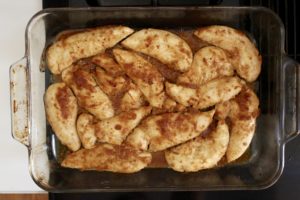 3. Meanwhile, whisk peanut butter, coconut milk, miso, water, garlic, rice vinegar, sesame oil, honey and soy/tamari until smooth.
4. Serve sauce with chicken.