Ah, peanut butter and jelly. Like many of you, I make a lot of peanut butter and jelly sandwiches. Because of the type of bread, peanut butter and jelly that I use, this is a 100% healthy meal for the kids that they enjoy eating. Double win. What they won't eat is crust (are they chatting about this at gym daycares and church nurseries? Everyone! Tell your parents we refuse to eat crust! Crust is gross!) so there's two sandwiches' worth of crust in my lunch each day.
Luckily I'm a big fan of PB&J so it's all good in the hood. In high school I used to toast two English muffins and smear them with tons of pb and jelly and wash it all down with a giant glass of 2% milk. Oh to be young again.
This is an extremely kid pleasing cookie bar that will make the adults happy, too. I mean, how good are honey roasted peanuts? I have a problem with them. An over-indulgence problem.
Peanut Butter and Jelly Cookie Bars
20-24 squares
1 1/2 c. all purpose flour
1/2 tsp. baking powder
1/4 tsp. kosher salt
1/2 c. butter (1 stick), softened
3/4 c. creamy peanut butter
3/4 c. brown sugar
1 large egg
1 tsp. vanilla
3/4 c. strawberry jelly
1/2 c. roughly chopped honey roasted peanuts
1. Preheat oven to 350 degrees. Whisk flour, baking soda and salt in a medium bowl.
2. Cream butter, brown sugar, and peanut butter (use electric mixer and beat 3-5 minutes on medium high speed until light and fluffy).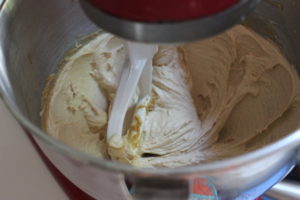 3. Add egg and vanilla and beat to combine.
4. Add dry ingredients and mix on low speed until just combined.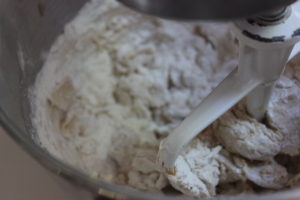 5. Prepare an  8 in. square baking pan by lining with foil, letting it overhang on two sides. Spray the bottom and sides of the foil with nonstick spray.
6. Remove one cup's worth of batter from the mix and set to the side. Transfer the remaining batter to the prepared pan and press into the bottom of the pan until flat and even. (easiest to do with water-moistened fingertips)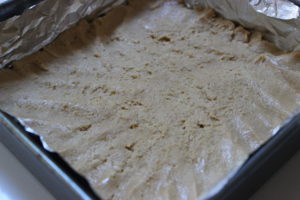 7. Spread surface evenly with jelly.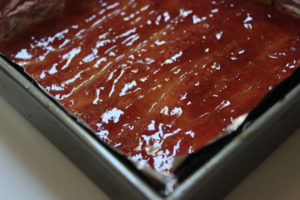 8. Take 1 c. reserved batter and drop in clumps over the surface of the jelly. Sprinkle with honey roasted peanuts.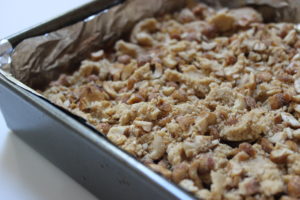 9. Bake for 40 minutes or until set.
10. Cool completely in pan, set on wire rack or on top of the stove.
11. Lift bars out of pan using the foil sling and slice into bars.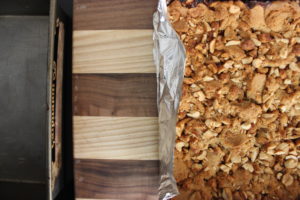 12. Keep at room temperature, covered loosely, up to several days.