This recipe is another family classic from Mom, and any friend of mine I've had over the years has no doubt partaken of the ridiculous deliciousness that is buckle. It's the best – it's worth every fattening bite. I'm obsessed.
I can remember as a kid sneaking the crumb topping off when no one was looking, as it's the PERFECT crumb topping and I probably thought the blueberries were gross. This is basically a coffee cake but when it's around my house it's eaten at breakfast, dessert, and snack time. Great with a cup of tea/coffee, or served a la mode. It's the kind of thing you have to keep "making even". Like, "oh, someone had a small piece, I'd better eat along the row to make it even". Oh the games we play.
You will notice its fat is shortening rather than butter. It was the way the original recipe was written and the way my mom still makes it. We ate it at the shore one weekend and Tessa literally pestered me about making her some every five minutes in the ensuing days. I only had butter on hand and figured it'd be fine. Honestly? It was no different. I maybe even liked it better.
Blueberry Buckle
8×8 (Double to make 9×12)
1/2 c. shortening or unsalted butter (softened)
3/4 c. sugar
1 egg
1/2 tsp. vanilla extract
2 c. flour
1/2 tsp. salt
2 1/2 tsp. baking powder
1/2 c. milk
2 c. fresh blueberries
Topping
1/2 c. sugar
1/2 c. flour
1/2 tsp. cinnamon
pinch kosher salt
4 tbsp. softened unsalted butter
1. Heat oven to 350 degrees.
2. Grease and flour 8 x 8 baking dish. The "flour and butter" baking nonstick spray works excellently and takes way less time. 
3. Cream shortening/butter and sugar in a large bowl (with electric mixer).
4. Add egg and vanilla and beat till combined.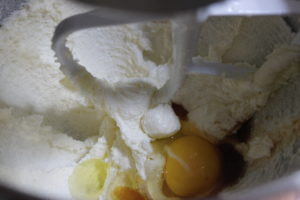 5. Whisk together flour, baking powder and salt. Add alternately with the milk, starting and ending with the flour mixture.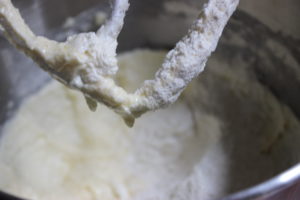 6. Mix in the blueberries by hand, carefully, as to not burst the berries.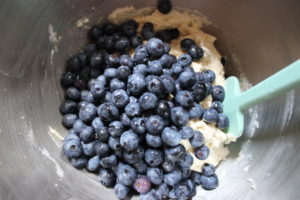 7. Transfer mixture to prepared pan and spread evenly.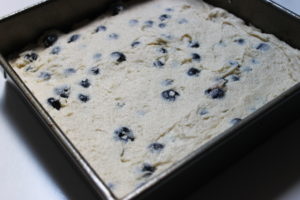 8. To make topping, combine sugar, flour, cinnamon and salt in a small bowl. Whisk. Using hands or a pastry blender, cut in softened butter until mixture forms small clumps.
9. Sprinkle topping over batter. Bake for 45 minutes.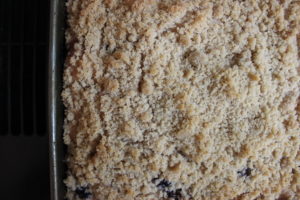 10. Let cool until easy to slice, and cut into squares.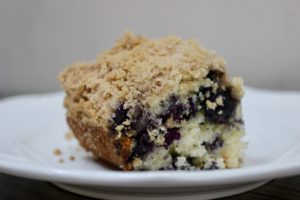 *Buckle keeps at room temp at least 4 days. Freezes excellently for up to 4 months.