Typical broccoli salad is delish and a flavor I think we've all come by a time or two; sometimes the first version is obviously better (think Pitch Perfect) but that's just not always the case (think the Iphone).  A few tweaks makes this version more up my alley. Mayonnaise isn't a favorite of mine, but it has a depth of flavor that plain yogurt can't compete with. I dialed it down a fair bit and subbed in a fridge staple, nonfat Greek yogurt. With the addition of apples and cranberries there was a punch of sweet (supported by the sugar in the dressing) but it was balanced nicely with salt (sunflower seeds) and acidity (lemon juice).
It's a creamy dressing, yes, but stretches over the veggies to seem quite light. It's just enough dressing to coat each bite, but not enough that the mayo flavor ever stands alone. This came together quicker than I anticipated; I guess that's the benefit of not having to cook any part of it. I think the dressing softened the broccoli a bit from a sit in the fridge, so make this before your guests come – also perfect for a potluck as the travel time will suffice.
Broccoli Apple Salad
Serves 6-8
2 medium heads broccoli, florets only, torn into bite size pieces
1 c. shredded carrots
1 bunch scallions, thinly sliced
2 firm apples, cored and diced
1/2 c. sunflower seeds
1/2 c. dried cranberries
1/3 c. light mayonnaise
1/2 heaping c. nonfat, plain Greek yogurt
Juice of 1 lemon
1 tbsp. sugar
3/4 tsp. kosher salt
1/2 tsp. black pepper
1. Combine broccoli, carrots, scallions, apples, sunflower seeds and cranberries in a large mixing bowl.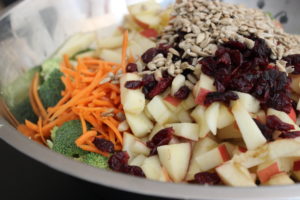 2. In a smaller bowl, whisk mayonnaise, yogurt, lemon juice, sugar, salt and pepper until smoothly combined.
3. Add to broccoli mixture and stir to evenly coat.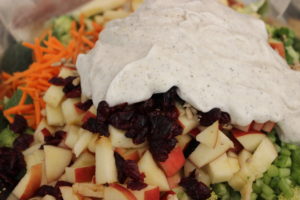 4. Transfer to serving bowl and cover with plastic. Refrigerate at least 1Â hour before serving (and up to six).