Last winter I was hosting something – maybe the Super Bowl? I can't remember. Rich was on a new, super limited diet and my SIL has Celiac. I wanted make ahead, I wanted crowd pleasing, I wanted big-batch. My favorite menu for those specifications is usually Italian style pulled pork with broccoli rabe, long hots and provolone (with seeded rolls for the gluten eaters), but I'd made that at time or two (or ten). I found a recipe on epicurious, tweaked according to the comments and my own preferences, and MAN did I have a hit on my hands.
It was memorable to all in attendance. Alas, I hadn't written down my recipe. This past Saturday, for my daughter's family birthday celebration, I had a similarly tricky crowd and a forecast of chilly temps, wind and drizzle. It was time for stew, and this time I tucked my pencil behind my ear.
This is not "throw everything in the crockpot", easy weeknight dinner kind of stew. This is somehow elegant whilst comforting, highly flavorful, and with a sprinkle of fresh parsley, a far cry from the picture of blandly colored mush that the words "beef stew" might bring to your mind. Beef that holds its shape but is perfectly tender, sautéed onions, just-soft-enough carrots and a red wine reduction that's wildly delicious. A bit of work, yes, but oh so worth it. It's BETTER made ahead, and it's served in one bowl. That's right up my alley.
I omitted potatoes from the stew because I serve it over buttery mashed potatoes. If you want to add baby red skins when you add the carrots, that's up to you. You can serve this over egg noodles, rice, even sautéed greens. It's dairy free, gluten free, sans legumes and nightshades. It's completely on trend and not the least bit pretentious! Lastly, it's super easy to cut this in half. Round is usually sold in 3.5 lb. packages so you will be good to go.
Red Wine Braised Beef Stew
Serves 12-15
About 7 lb. top round or bottom round beef, cut into 2 inch chunks
1/3 c. cornstarch
1 tbsp. kosher salt
2 tsp. black pepper
2 tbsp. olive oil, divided
6 oz. tomato paste
1 bottle dry red wine
6 c. beef broth
2 onions, divided
13 carrots, peeled, divided
1 packet poultry blend herbs (or 2 fresh bay leaves, 2 sprigs rosemary, 6 sprigs fresh thyme)
28 oz. white mushrooms, stemmed and chopped
2 tsp. balsamic vinegar
2 tsp. Trader Joes Umami Flavoring (or dried porcini mushroom powder) (OR salt to taste)
1/4 c. finely chopped fresh parsley
Preheat oven to 325 degrees. Place meat in large mixing bowl. Whisk cornstarch, salt and pepper in a small bowl and pour over meat. Toss to coat.
Heat oil in large pot or dutch oven over medium heat. Add meat in single layer to pan, let cook without moving, turn to second side until browned. Remove to clean bowl and repeat with remaining meat, lowering the heat as needed, until all meat is browned.
Add tomato paste to fond in pan, and, adding wine slowly, whisk the fond into the paste. Once wine is in, add meat back to pan, along with 1 onion (quartered), 3 carrots (cut in half), and herbs. Add beef broth until meet is just about covered. Place lid on pan and place pan in oven. Set timer for two hours.
Meanwhile, heat nonstick pan over medium high heat. Add mushrooms and stir occasionally. Once mushrooms have released their liquid and liquid has reduce to near gone, add remaining 1 tbsp. olive oil. Stir occasionally until mushrooms are golden brown. Sprinkle with salt and pepper. Remove mushrooms. To pan, add remaining onion, diced. Sauté until softened and golden. Add to bowl with mushrooms.
Chop remaining carrots into 1 inch chunks. When timer goes off, remove pot from oven and remove quartered onions, halved carrots, and herb stems from pot. Add carrots, mushrooms, and cooked onion to the pot. Replace lid and return to oven for another hour.
Remove from oven when timer goes off and let cool about two hours. Place in fridge over night.
About three hours from serving, place pan over medium high heat. Stir occasionally, until mixture comes to a gentle simmer. Let simmer about one hour or until reduce to a thickness you desire. Add balsamic and umami blend (if you have it), and salt and pepper to taste. Serve with chopped parsley. Below photos is the mashed potato recipe.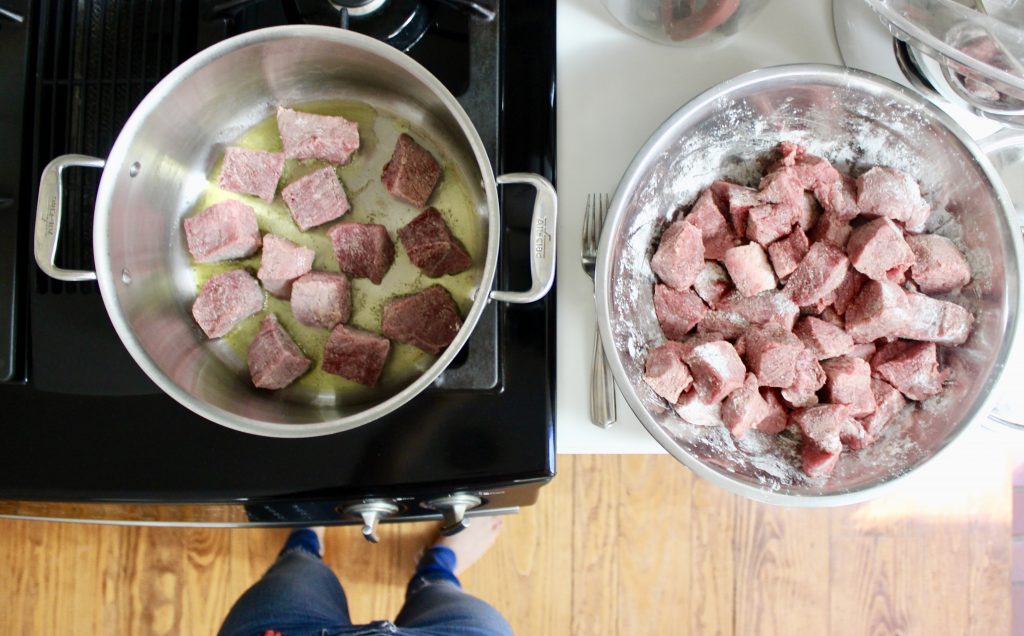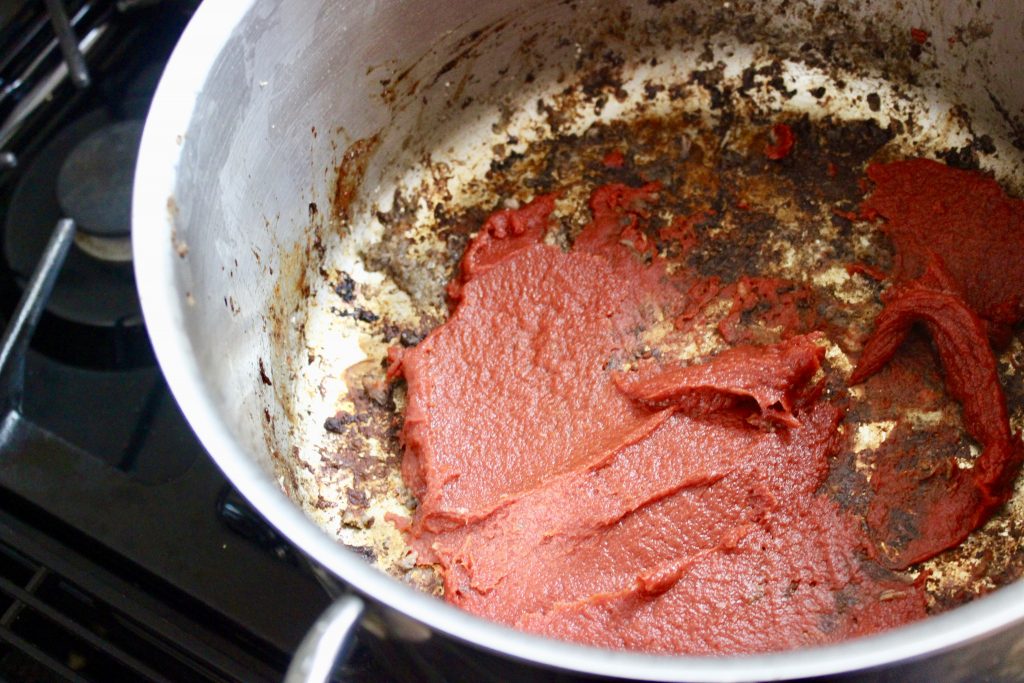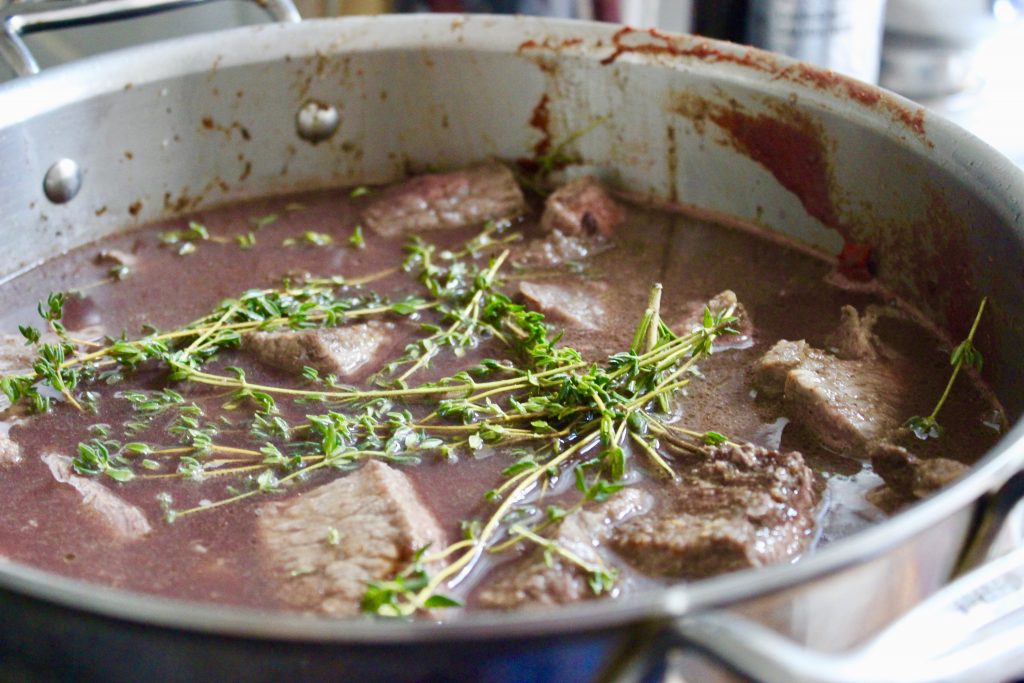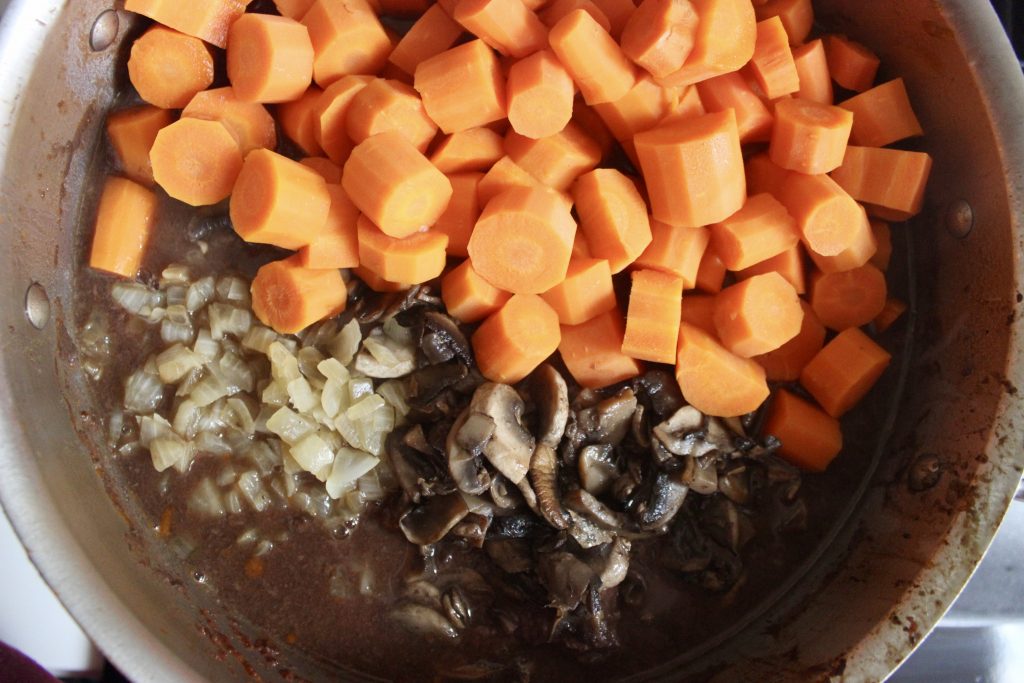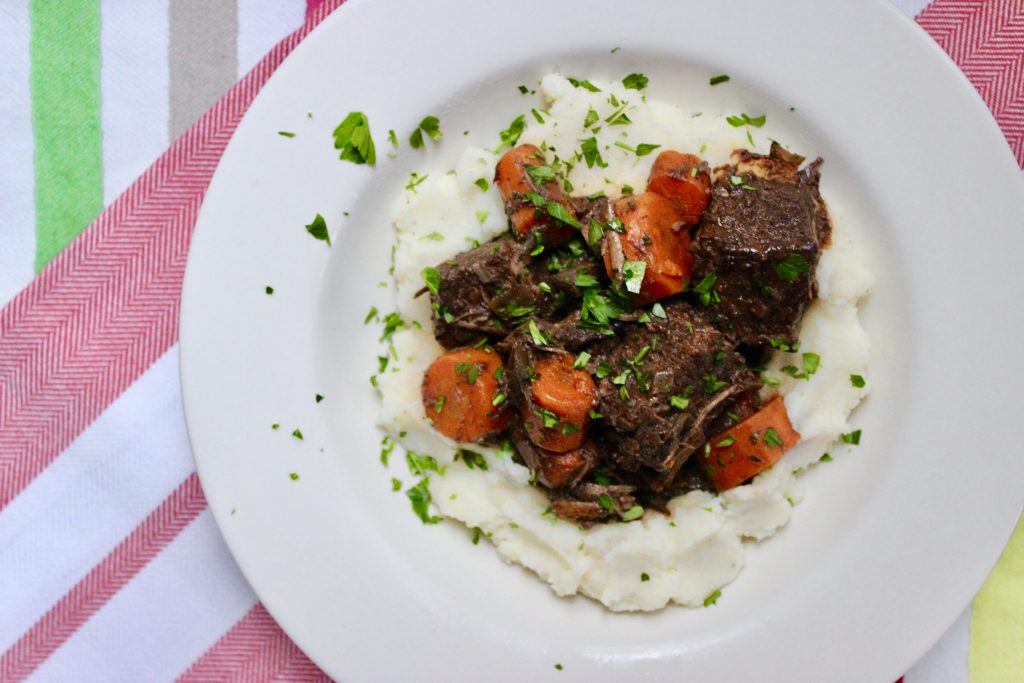 Though not an official recipe (I didn't want to overload you), I'll tell you how I make my potatoes. I use russet. About 1 1/2 potatoes per person if they're normal sized (the potato, not the person). I peel and cube them, then put them in a saucepan and cover with cold water. I leave them there until we are about 30 minutes from eating. Place pan over high heat and simmer until potatoes are fork tender. Drain of water, then add whole milk and butter, cut into tablespoons, and mash with potato masher. Add salt and pepper to taste. If you want it to taste good, you need a lot of butter. I did a five lb bag of potatoes, 12 tbsp. butter and probably 1 1/2 cups of milk.