Another "post-it inside the cabinet" recipe. Â These are simple, straightforward, and absolutely delicious.
These have been my go-to, no longer have to search sugar cookie around the holidays, to very consistent results. The recipe is so simple it's scary and the dough rolls well, cuts cleanly, and spreads just the right amount in the oven so that the cookies still look like the intended shape, not chubby versions of the intended shape. The only step that MUST be done correctly is the creaming of the butter and sugar. "To cream" means "to beat together until light and fluffy". The color should shift from yellow to white and the mixture should look airy and soft. By rushing this step you could end up with a flatter cookie that spreads too much. AT LEAST three minutes on medium speed – could be up to five, though.
If you find that the shapes are squishing and bunching when you transfer them to the baking sheet, you've got a few options. I always recommend chilling the dough for a while – chilled dough cuts and transfers a thousand times easier. Another option is to roll dough on parchment or waxed paper, which greatly reducing sticking but doesn't affect squishing up the cookie (again, CHILL that dough). Lastly, flour is your friend. Flour the counter, flour the cookie cutter, and flour your spatula.
Lastly, and I know this makes me seem like an uptight mom, but choose wisely as to when you let your kids help. I roll, I transport; they're allowed to press the cookie cutter into the dough. Just saying.
Easy Roll-out Butter Cookies
Makes about 33
2 c. all purpose flour
1/2 tsp. kosher salt
3/4 c. sugar
16 tbsp. unsalted butter (two sticks), softened
1 egg
1 tsp. vanilla extract
1. In a small mixing bowl, whisk flour and salt.
2. In the bowl of a standing mixer or a medium mixing bowl (if using a hand held mixer), beat sugar and butter on medium speed until pale and fluffy, at least 3 minutes or up to 5.
3. Add egg and vanilla, beat 20 seconds and scrape down the sides of the bowl.
4. Add dry ingredients and beat on low just until combined.
5. Divide mixture between two sheets of plastic wrap and wrap into disks. Refrigerate 30 minutes or several days.
6. Preheat oven to 350 degrees and roll out dough to 1/4 inch thickness on a well floured countertop. Cut with floured cookie cutter and transfer to silpat or parchment lined baking sheet (using a thin metal spatula dipped in flour). If dough is sticky or not holding shape, chill rolled dough for about ten minutes before cutting shapes.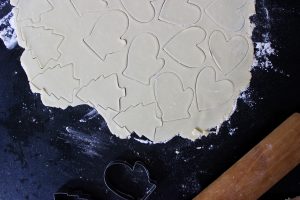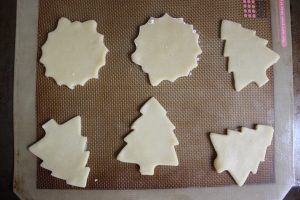 7. Bake for 12-13 minutes or until just golden on the edges. Let cool on sheets for about three minutes and then transfer to wire rack to cool completely. Store in an airtight container at room temperature, for three or four days.