I really like Asian flavors – my husband not as much. Our weeknight staple sweet and spicy beef and edamame aside, he typically enjoys the more familiar flavorings found in Italian food, BBQ and the like. The kids like the above beef dish as well but I didn't even try them on this soup. Reason one being I had leftover chili and I knew they were fans. Reason two being that I didn't want to share. 
My healthy but boring lunches were getting old and with the deep freeze setting in, I wished I had access to homemade soup. The thing is, when I make a pot of soup I get at least two dinners out of it, and I'd rather eat a lunch of cheese sticks and apples than risk having to make an extra dinner. This soup is high in protein with a good amount of healthy fat. With carrots and hummus or some fruit on the side, lunch was now easy peasy. I had several meals out of this and looked forward to it each day.
A few tips – this packs an amazing flavor punch. With garlic, ginger, soy, vinegar, sesame, honey and tamari this is umami RICH. The broth itself is so flavorful with a delicate sweetness and a hit of spicy in the back of your throat from the sriracha. I don't usually recommend low sodium broth but here you might want to use it – this verges on salty (as do most Asian soups) because the vinegar and the tamari provides plenty of that salty flavor (minus the salt). If you skip this warning and it tastes too salty, add a bit more honey and an extra 1/2 cup of water. Oh and PS, this isn't a nice looking soup. The shredded cabbage and cooked but broken up egg makes it look sort of like a hot mess (literally). Technically it doesn't matter, but I just wanted to warn you so that you don't think you did something wrong.
Egg Drop Soup with Shrimp
Serves 4-6
3 tbsp. canola or vegetable oil
3 cloves garlic, minced or pressed
3 tsp. peeled and grated or minced fresh ginger
1/3 c. white onions, finely diced
6 oz. shitake mushrooms, stemmed and thinly sliced
6 c. low sodium chicken broth
3 c. coleslaw mix (cabbage and carrots)
3 tbsp. tamari or low sodium soy sauce
3 tbsp. rice vinegar
1 tbsp. sesame oil
1 heaping tsp. honey
1 tsp. sriracha
pinch black pepper
12 oz. medium cooked shrimp, peeled and deveined
2 eggs, beaten
1/4 c. snipped chives or scallions
1. In a medium pot or dutch oven, heat oil over medium heat. Add garlic, ginger and onion and saute until fragrant, about three minutes.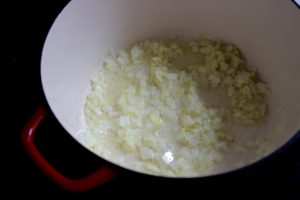 2. Add mushrooms and saute until softened, about three minutes.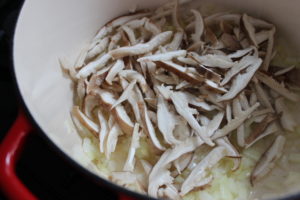 3. Add broth, coleslaw mix, tamari, vinegar, sesame oil, honey, sriracha and black pepper.
4. When mixture reaches a bare boil, add shrimp. When mixture returns to a boil stir while adding the eggs in a steady, thin stream.
4. Serve, topped with chives or garnish.