I made these during naptime and they almost didn't make it to dinner. I would have happily eaten the entirety of the "filling" contents without a backwards glance. Some of my very favorite flavors all in one place, this is a dinner I can get behind. Our food culture definitely puts meat as the main event of the plate – especially with the current diet craze of Paleo, Whole30 and the like. Mainly, though, it's the protein we're after. Remember, a dinner with a three egg omelet filled with cheese and veggies will put you well over 20 grams of protein; as women we need at least 60 in a day so 20 makes for a great dinner.
This recipe gets protein from the cheese, the yogurt, and the bacon. I'll serve it with side salad tonight and whenever I'm worried it might not be "enough" for the hungry husband I put out our fridge staple, the pecan pie bars, out along side our plates. Usually gets the job done. Oh and I also sometimes remind myself that he walks in to a plate of food made by someone else – any complaints? File them to the complaints department which is also the trash can.
A few notes – I used turkey bacon here but you can use what you like. I like the chew that you get from turkey bacon and unless I need the rendered fat to continue with the recipe (like if I'm making soup) I go with this lighter option. Wondering about Gorgonzola? Its blue cheese. You can buy whichever title fits your fancy. Lastly – the yogurt. I only keep nonfat plain Greek in the fridge; I know fat is important which is why I add it back with seeds or nuts (chia, flax, hemp). It's technically a healthier fat. That being said, there have been some studies that show whole fat dairy is better for you. If you keep whole fat Greek yogurt then feel free to omit the coconut oil.
Double Stuffed Sweet Potatoes with Bacon and Gorgonzola Cheese
Serves 4
4 large sweet potatoes
Cooking spray
5 slices bacon or turkey bacon, divided
1 heaping tbsp. coconut oil
1/2 c. nonfat plain Greek yogurt
1/2 tsp. black pepper
3/4 tsp. kosher salt
1/8 tsp. ground nutmeg
4 scallions, thinly sliced, divided
1/4 c. crumbled Gorgonzola, plus more for garnish
1. Preheat oven to 400 degrees. Scrub potatoes clean and mist with cooking spray. Bake on parchment lined baking sheet for 1 hour, turning over halfway through. Remove but maintain oven temperature.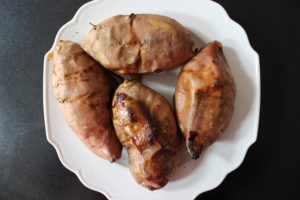 2. Let cool at least ten minutes or until cool enough to handle. Meanwhile, fry bacon in skillet over medium low heat until cooked. Drain on paper towel.
3. Cut each potato from stem to stem and holding carefully, scrape most of the flesh into a bowl, leaving a thin layer of flesh still inside the potato to give it shape.
4. Add coconut oil and mix with fork until melted.
5. Add yogurt, pepper, salt and nutmeg and mix until smoothly combined.
6. Chop cooled bacon and reserve about two tablespoons. Fold the rest into the potato mixture along with 1/4 c. cheese and most of the scallions (reserve about two tablespoons for topping).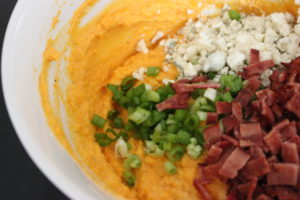 7. Fill potatoes with mixture and return to baking sheet. Top with reserved bacon and cheese. Bake for 10 minutes or until heated through.
8. Top with reserved scallions and serve.