Another win for Heather! She sent me this recipe immediately after my request for your best, and this certainly did not disappoint. She based her recipe on Smitten Kitchen's and mine is not a far cry from that as well. I'll explain the changes and why I made them, but let me just tell you, this is a must make. 
After Heather told me that this reheats very well (unlike risotto which it mimics in so many ways), I figured why not double the effort for weekday lunches? It made a ton but I'm fairly positive not a bite will go to waste. Farro isn't something I buy mostly because it's not gluten free, but I enjoyed this so much I'll have to add it to the cart more often, just for me.
Smitten Kitchen's pictures made this look a bit more pilaf like – drier. Mine was so much like perfect risotto that I couldn't help but stir cheese into it. This can be a base for any meat or fish (or poached eggs which is what I plan on eating for breakfast tomorrow) and since it reheats well, you could make it on a Sunday and eat it with grilled chicken on Monday, steamed fish on Tuesday etc.
I made it on a Friday afternoon. A rainy, miserably cold day. My parents were sending me pictures of the Naples beach where it was 85 degrees, and I had gotten soaked bringing the kids into preschool. I just couldn't get warm – that is until I ate a bowl of this. Warmed me right to my toes.
Creamy Farro Italiano
4 c. water
2 c. farro, rinsed
1 lg. onion, thinly sliced to quarter moons
4 cloves garlic, minced
2 pints cherry tomatoes, halved
2 1/4 tsp. kosher salt
1/2 tsp. red pepper flakes
2 tbsp. olive oil
1/4 c. grated parmesan plus more for serving
Basil
1. Place water and farro in a medium to large saucepan to soak.
2. Meanwhile, prep ingredients.
3. After farro has soaked about 10 minutes, add onions, garlic, tomatoes, salt, pepper flakes and olive oil to pan. Stir to combine. Turn heat to high and bring to boil.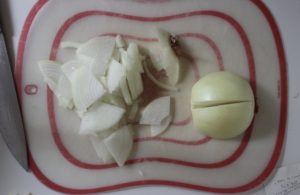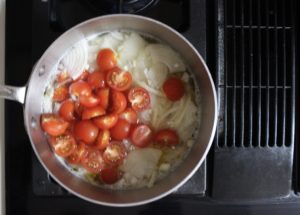 4. When mixture reaches boil, reduce to a simmer (over lowest heat) and let cook, stirring occasionally, for 30 minutes.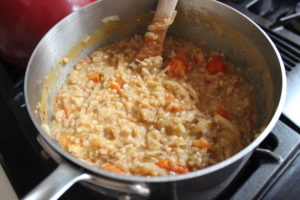 5. Taste to ensure farro is chewy but not hard. Add 1/4 c. cheese and stir to combine.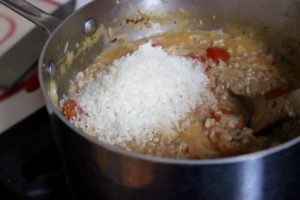 6. Serve, topped with basil and parmesan cheese.