This recipe if from Deb – she received it at her wedding shower from an aunt who's mother lived in Italy as a little girl. She makes it all the time and can I just say, I am SO GRATEFUL she shared this with me. I tasted the soup as I went but it wasn't until I spooned myself a big bite from my photo bowl that I understood exactly what this was – the best lasagna you've ever had with a quarter of the work. 
The sausage, celery, onions, mushrooms and garlic all contribute to the flavor, but if you dice them finely enough you won't really even realize they're there. It's almost like a delicious tomato sauce with noodles and cheese on top. Next time I make it I will add a 6 oz bag of fresh baby spinach; it will go unnoticed flavor-wise and make it healthier. If you want to do this too, stir it in once the noodles are cooked through.
Deb's original recipe called for chicken and beef bouillon cubes and water. She said I could mess with this as I liked, so let's talk broth. The "better than boillion" gel is basically a drastically reduced version of broth, so with the addition of water it reconstitutes. I get the organic chicken version at Costco and it saves major space in my cabinets (and money in my pocket). If you like the bouillon cubes, they will work (1 cube per cup of water). If you like what I use, go for it (1 tsp. per cup of water). If you want to use the cartons of broth, that will work as well. If you'd rather skip the beef broth here and buy two quarts of chicken broth, I don't think the flavor will change too much.
Major crowd pleaser; I made this for family friends on a Sunday, football kind of afternoon. I served it with arugula salad and crusty bread but it's a whole meal in and of itself; my extras were somewhat unnecessary. Oh a final note – before adding the noodles I ladled out a small pot's worth for my husband. To his I added gluten free elbow macaroni, though I'm sure they make GF lasagna noodles now. A final note, this is best served as soon as possible. The noodles continue to suck up the liquid and get too soggy; once the noodles are cooked, serve it up. Everyone's happy!
Lasagna Soup
Serves 8
8 oz (3 links) mild Italian sausage
6 celery stalks, finely diced
1 large onion (or two small), finely diced
3 garlic cloves, minced or pressed
8 oz. white button mushrooms, stemmed and finely chopped
2 tsp. dried basil
2 tsp. dried oregano
1 tsp. dried thyme
1/2 tsp. kosher salt
1 tsp. crushed red pepper flakes
2 tsp. sugar
2 (28 oz) cans chunky crushed tomatoes
1 (28 oz) can tomato puree
6 c. chicken broth
2 c. beef broth
12 lasagna noodles, broken into 1-2 inch pieces
1 c. ricotta cheese
1 c. shredded mozzarella
1/2 c. grated parmesan cheese
Fresh basil, for garnish, optional
1. Heat a large pot over medium heat. Remove sausage from casings and cook, breaking up with a spoon, until no longer pink.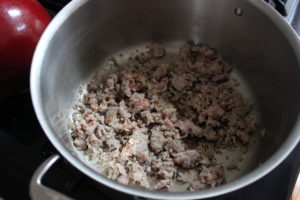 2. Add celery, onion, and mushrooms, increase heat to medium high and saute about 8 minutes or until softened.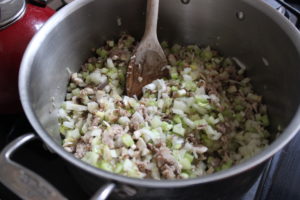 3. Add basil, oregano, thyme, salt, pepper flakes and sugar. Stir and let cook 1-2 minutes.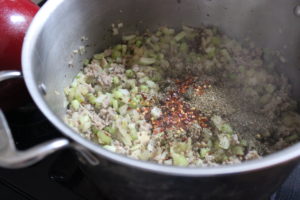 4. Add tomatoes and broths and stir to combine. Bring mixture to boil over high heat. Reduce to simmer (low heat) and simmer for 30 minutes.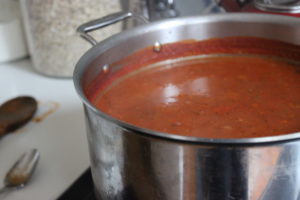 5. Add lasagna noodles and simmer 16 minutes or until cooked through.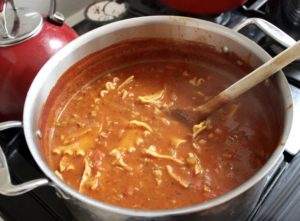 6. Serve, with a spoonful of ricotta, a sprinkle of mozzarella, pinch of parmesan and some torn basil.