Oh Pad Thai, how I love thee. In completely sincerity this is probably one of my favorite foods, but you'll notice that with well over 600 recipes on here you won't find a single one for Pad Thai. There's a reason for this. 
I'd be remiss if I didn't start at the beginning, which would be Pakha's Thai House off route 15 in Pennsyltucky. I'd go with my girlfriends in college and we'd eat our faces full of Pad Thai, thinking we were all that and a bag of chips for being so multicultural with our cuisine choice (we'd had our fill of Pizzatown USA – and yes, seriously, that's what it's called). When I started to get into cooking I (of course) sought out the recipe but for such a simple dish (basically saucy noodles with shrimp or chicken) the ingredient list was absurdly complex. Tamarind rind? Shrimp tails? That's a hard pass. The years passed and the dish remained in my mind as nothing but a fond, delicious memory.
So when my buddy Bri sent me her recipe for quick and easy Pad Thai, I was understandably psyched. I had most of the ingredients already – I just had to buy the noodles really. Her recipe was just what I hoped I'd get when I asked for your gems – a photo of her quick, handwritten words with notes like "triple this" and no measurements for the noodles. I perused the net, organized a recipe, and then experienced a kitchen triumph that even with the best of intentions is often elusive. A pad thai recipe that, though in some ways is less traditional, uses easy to find ingredients, comes together quickly, and made me unable to resist eating my dinner portion at naptime. Cereal for dinner for this girl, and it was so worth it.
Bri's Pad Thai
Serves 2-3 hungry adults
6 oz. rice stick noodles (or about half a 14 oz. box)
2 chicken breasts
1/3 c. coconut sugar (or brown sugar)
1/3 c. boiling water
2 tbsp. peanut butter
1/3 c. fish sauce
3 tbsp. rice wine vinegar (or white wine vinegar)
3 garlic cloves, minced
1/2 tsp. crushed red pepper flakes
1 tbsp. peanut or vegetable oil
1/2 a red onion, thinly sliced
2 eggs, lightly beaten
1 bunch scallions, thinly sliced
1/2 c. crushed roasted peanuts, for serving
1. Place noodles in a large bowl and top with boiling water. Let sit for at least 30 minutes.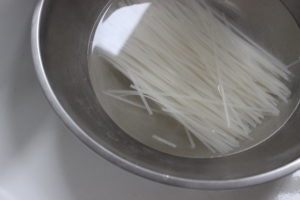 2. Meanwhile, place chicken in a small saucepan and fill with hot water. Bring to boil over high heat then reduce to low heat and cook at a bare simmer, about 10 minutes. Remove to cutting board.
3. Meanwhile, combine coconut sugar and boiling water in a medium mixing bowl and stir till dissolved. Add peanut butter, fish sauce, rice vinegar, crushed red pepper and garlic. Whisk to combine.
4. When chicken is cool enough to handle, shred with two forks. Add chicken to sauce mixture and toss to coat.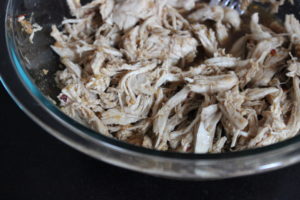 5. Heat a large nonstick skillet or wok over medium high heat. Add oil. Add onion and saute until softened, about 5 minutes.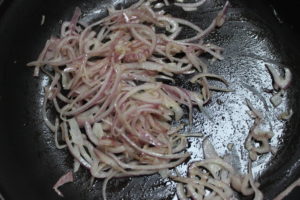 6. Move onions to the side and add egg. Scramble.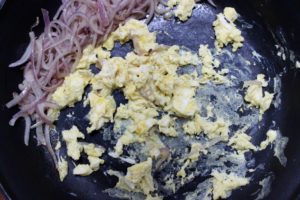 7. Drain noodles and add to pan. Add chicken and sauce mixture, careful to scrape any left behind sauce into skillet. Toss with tongs to combine and heat through.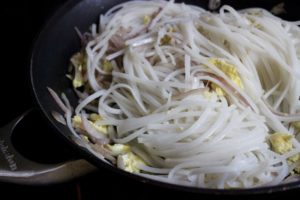 8. Remove from heat and add scallions. Serve, topped with peanuts.