This is a recipe that's been on my site since 2012 – turns out I was ahead of the times with this Greek bowl, full of brown rice, veggies, chicken and herbs all topped with a tangy tahini sauce. Bowls are a thing – just check the menu at Sweet Greens. I love when my food touches.
If you have a sauce, you can make a "bowl meal" with barely a thought. You'll need veggies, grains, and protein but as I said, the sauce pulls it all together. This tahini sauce has just a few ingredients and is great for you; tahini isn't something we routinely eat but since I'm pretty sure it lasts 100 years, I keep a jar in the fridge for moments like these, and am always glad I have it (it's a staple in hummus so if you've been planning to make that sometime soon, this bowl can be added to your menu for the week).
This dinner is CRAZY healthy, all "whole foods". I call for cooked chicken and cooked brown rice so as not to make this recipe super long, but let me explain how I cook mine. The chicken? I poach. Fill a small saucepan with water, bring to a boil, add chicken, reduce heat to low, and cook at a bare simmer for about 12 minutes. Done. Rice? I make oven rice. Oven to 375 degrees. Combine 1 1/2 c. brown rice, 2 1/2 c. boiling water, 1 tsp. kosher salt and 1 tbsp. olive oil in an 8×8 inch glass baking dish. Cover with foil, bake 1 hour. Fluff with fork. I do this at least twice a week.
These tasks can be done ahead, which makes this a pretty easy weeknight dinner. If you take anything away from this post, let it be the oven rice. I'll never make it any other way, now that I've got that oven rice down in my memory. Lastly, I kept this dairy free from leaving out feta cheese, but it of course would go well, and if you're a fan then just add it at the end.
Chicken Tahini Greek Bowl
Serves 4
1 small to medium eggplant, sliced 1/4 in thick
3 small zucchini, sliced thinly
Olive Oil
salt and pepper
Sauce
1/3 c. tahini
2 tbsp. extra virgin olive oil
Juice of one lemon
1 tsp. kosher salt
1/4 tsp. cumin
big pinch cayenne
3 cloves garlic, minced
1 tbsp. water to thin, or more as needed
Bowl
3 chicken breasts, cooked and chopped
4 c. cooked brown rice
1 c. grape tomatoes, halved
1/3 c. fresh flat leaf parsley, finely chopped
1. Preheat oven to 425 degrees. Grease two cookie sheets with nonstick spray. Arrange zucchini on one cookie sheet, eggplant on another, spacing as evenly as possible.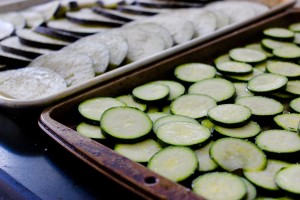 2. Brush sliced veggies on both sides lightly with oil and sprinkle liberally with salt and pepper (about 1 tsp. salt per cookie sheet).
3. Bake for about 35 minutes, switching pans halfway, or until golden brown. If necessary, broil eggplant to desired brownness.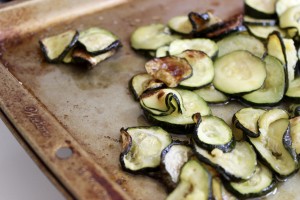 6. To make sauce, whisk all ingredients together in a small bowl.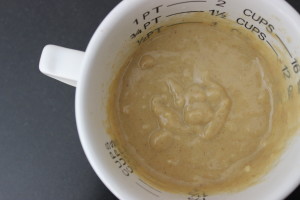 7. To arrange bowls, divide rice between bowls. Top with veggies, then chicken. Arrange tomatoes around bowl, then top with parsley.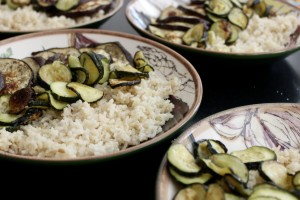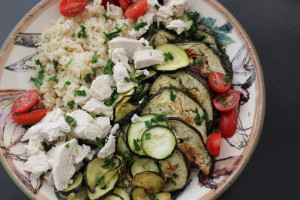 8. Drizzle with sauce and serve.