In the matter of a few weeks, my parents, in-laws, and husband all learned first hand how amazing Chick-fil-A is. They were going on and on about the kind elderly man that brings you extra sauces, the amazing milkshakes (and frozen lemonades), and the fried chicken sandwich that never quits being the most delicious thing you've ever had. Most moms know how great it is, pretty sure there are parody music videos about it, but the nearest location is at least 20 minutes away from my house, so I almost never get there. I do, however, consider shoving the nuggets that show up at every single children's birthday parties into my purse, not to mention that I eat at least fifteen while I'm there. 
My friend Brianna had sent me a knock-off Chick-fil-A sandwich recipe ages ago, and I finally got around to making it. Never keeping dill pickles in my fridge, my third-time-around pregnant self suddenly craved them like nobody's business. I had a jar of pickle juice left and remembered this recipe. Perfect! They came together in no time and ps, I forgot how fun it was to fry things. I made them at nap time, ate my fair share, and froze the rest on a cookie sheet. I divided them up into sandwich bags (I got about 4) and now have a kid-pleasing, high protein meal on the ready. To reheat I spread them a cookie sheet and baked at 350 until heated through (took about 10 minutes).
So do they really taste like the real deal? Yes, but the further you stray from the recipe below, the more different they will taste. Bri has used vegetable oil and peanut oil, and she said the peanut oil is a must. Also, don't skip the marinade! It's critical to the flavor. Lastly, don't think you can get away with baking them or skimping on the oil. Glug it in the pan till it comes up an inch on the sides, and the whole experience will work out better for you (and your mouth, and the mouths of the people who you give them to).
Chicken Nuggets like Chick-fil-A
Serves 4-6
3 chicken breasts, cut into 1-2 inch. chunks
1 c. pickle juice from dill pickle jar
2 eggs
1 c. all purpose flour
2 tbsp. sugar
1 1/4 tsp. table salt
1 tsp. paprika
1/2 tsp. black pepper
1/2 tsp. oregano
1/2 tsp. dried basil
1/4 tsp. garlic powder
1/4 tsp. onion powder
1/2 c. (at least) Peanut Oil
1. Marinate chicken in pickle juice at least 1 hour or up to 12.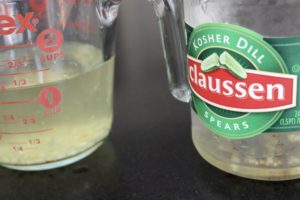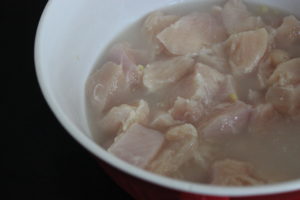 2. Whisk two eggs in shallow bowl. In another bowl, whisk flour, sugar, salt and spices.
3. Drain chicken well. Coat in eggs and let excess drip off. Dredge in flour mixture.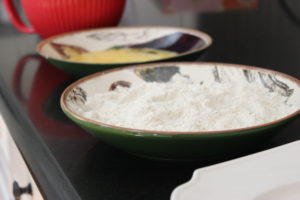 4. Heat peanut oil (1/2 c. will be a shallow, pan fry, 1 -2 cups will be a deep fry). Over medium low heat.
5. Test a corner of the chicken in the oil to test the heat – if it crackles it's ready. Add chicken to pan. Cook until golden brown and flip to second side. Once golden brown, remove to paper towel lined plate. Continue with remaining chicken.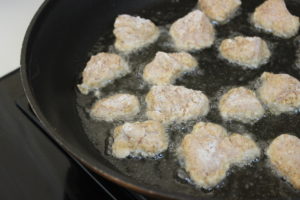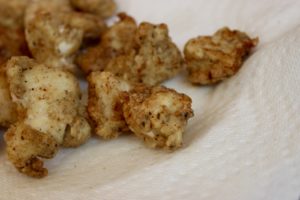 6. Serve, or to freeze, place on cookie sheet or cooling rack and freeze for 1 hour. Once frozen, gather chicken into sandwich bags – zip top – and freeze for several months.