Remember when I posted Ryan's favorite meatloaf a few months ago? Well this one could be called "Rich's favorite" and also "Becca's favorite" and even "the kids finally didn't grumble about dinner". 
Typically meatloaf is either the "ketchup" version or the "BBQ sauce" version. I probably enjoy the BBQ one better, but even so it usually leaves me with something to be desired. Not this time. This time I danced a jig of glee at 6:20 AM when I realized my husband forgot to take his leftovers to work. My son, who literally objects to every single somewhat unfamiliar food, pointed at the meatloaf after he'd tried a bite and said, "I like this. What is this?".
Meatloaf in general is dated, I know, but I've currently got a child-bearing addiction to red meat, and not just any red meat. If you don't currently buy grass fed/organic ground beef, you need to give it a try. I know it's more expensive, but it tastes so much better. Truly it does. I had thawed beef and wanted to put together something mindless. I found a version of this recipe on foodnetwork.com and even though my pictures are absolute crap (meatloaf is ugly even if the light at 6:45 had been more conducive), I had to post this so that I could make it again. I use this site more than anybody, and this meatloaf could become a weekly staple. Why have I not done this all along? Meatloaf that tastes like the best Italian meatballs? Mix it, shape it, put it in the oven (isn't there a nursery rhyme that goes like this?) and dinner couldn't be easier (or make your house smell better) (or taste better). Give this a try, folks, you won't regret it.
PS you have to mix meatloaf with your hands. It's a rule.
Italian Style Meatloaf
Serves 4
1 tbsp. olive oil
1 onion, finely diced
2 garlic cloves, minced
1.3 lb. ground beef, ideally organic/grass fed
1/3 c. grated parmesan cheese
1/2 c. Italian style breadcrumbs (GF if necessary)
3 tbsp. minced fresh parsley
2 tbsp. minced fresh basil
1 1/2 tsp. Worcestershire sauce
1/2 tsp. garlic powder
1/2 tsp. kosher salt
1/2 tsp. black pepper
1 egg
3/4 c. prepared marinara sauce, divided
1. Heat oven to 350 degrees. Heat a nonstick skillet over medium heat and add olive oil.
2. Add onion and garlic and saute, stirring occasionally, until softened – about 8 minutes.
3. In a large bowl, combine beef, cheese, breadcrumbs, parsley, basil, Worcestershire, garlic powder, black pepper and egg.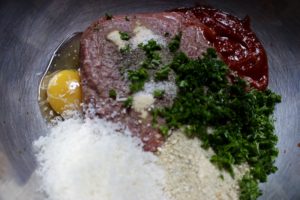 4. Add in cooked onions and 1/2 c. marinara sauce. Combine well.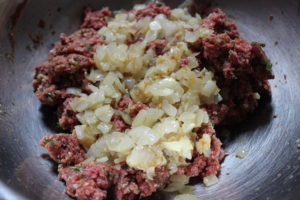 5. Lined a rimmed baking sheet with foil. Shape meat into a loaf on the middle of the pan. Spread remaining 1/4 c. marinara on top of meat.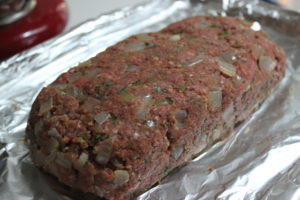 6. Bake for 40 minutes. Let cool about ten minutes, slice and serve.