I get a bit frenzied at the end of my pregnancies. I nest in that I would like things to be clean, but I take it a whole lot farther. I want to do things "ahead" to make it easier for when the baby comes. This means meals, gifts to be bought, cards to be written, etc. Since I typically feel like I'm "just making it", this extra pressure makes me downright exhausted when I should be resting. Vicious cycle if you ask me. 
One aspect of this nesting period is that I really, really enjoy baking. I like baking healthy things but I really like baking unhealthy things, and then I like eating them. You know who doesn't love this? My gluten free husband. He walks in to cookies, scones and breads cooling in the kitchen and asks, "can I eat this?" The answer is almost always no. I was feeling a bit guilty so when I saw this recipe in my fave healthy eating magazine (and somehow had every ingredient on hand), it became my Friday-afternoon-keep-Tess-busy activity.
Truth be told, they seemed so healthy I wasn't sure how they'd taste. Just 1/4 c. honey into 12 cookies? That breaks down to just 1 tsp. of sweetness per cookie. Once they'd cooled I dug in, and was honestly shocked at how tasty they were. The flavor was perfectly balanced. The exterior was crisp and the inside tender – it reminded me more of a scone than a cookie, but I love scones so that was okay with me. Plus, I don't like to overdo it with sweet at breakfast and these would be perfection with morning coffee (or afternoon tea). He was happy, I was happy, pretty sure you'll be happy.
GF Cranberry Orange Breakfast Cookies
Makes 12
Adapted from Clean Eating Magazine
2 c. almond flour
1/4 c. shredded unsweetened coconut
2 tbsp. coconut flour
2 tbsp. hemp hearts
1/2 tsp. kosher salt
1/2 tsp. ground cinnamon
1/2 tsp. baking soda
1/3 c. coconut oil, melted
2 eggs, lightly beaten
1/4 c. honey
zest of 1 orange
1 tsp. vanilla extract
1/2 c. dried cranberries
1/3 c. finely chopped pecans
1. Heat oven to 325 degrees. Line a baking sheet with parchment or silpat.
2. Combine almond flour, coconut, coconut flour, hemp hearts, salt, cinnamon, and baking soda in a large mixing bowl. Whisk to combine.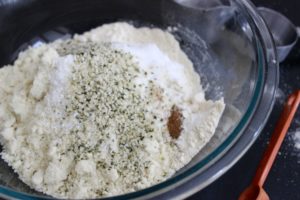 3. Add coconut oil and stir to distribute. Add eggs, honey, orange zest and vanilla and mix well until evenly combined.
4. Add in cranberries and pecans and stir to combine.
5. Scoop 1/4 c. amount of batter into balls and place on baking sheet – batter will not spread, so if you want them to be flatter, flatten them down slightly.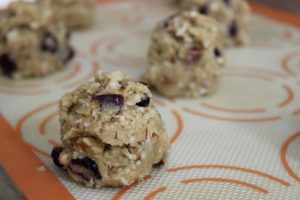 6. Bake for 25 minutes. Let cool on sheet for several minutes then transfer to wire rack to cool completely. Store at 4 days at room temperature in covered container or freeze for several months.