So this is my first year of lunch packing – and each day's pack also requires a snack. It's a nut free school, so many of my no-bake bars and balls wouldn't work. I pack a fruit in her lunch and can't bear to give the kid carrot sticks or another cut up veggie; snack should be something we look forward to (all of us). Enter mini muffins. I store the batch in the freezer and pack two in a little tupperware container – they thaw by snack and even though it's an every day item for her, she hasn't complained yet. 
Have I mentioned before that I'm a big recycle girl? I also try to limit packaging, so the "snack size" isn't something I buy (except for cheese sticks because, come on). Using too many daily plastic sandwich bags isn't much better, so a mini-tupperware full of muffins makes me happy and her teachers send it home in her lunch bag.
These muffins are full of whole grains, FULL of fiber (that's a ton of veggies), with enough fat to keep her full and sweetness to keep her happy. It's all she needs for a mid-morning snack.
Let the muffins thaw completely on the counter, then flash freeze on the cooling rack. Combine them, once frozen (should take about twenty minutes) in a large, zip top plastic freezer bag, and use as needed! Hope this is as helpful to you as to me, and that the kids enjoy them. If you don't have kids them make and freeze for an afternoon wintertime snack with an apple and some almonds. Yum.
Big Batch Zucchini Carrot "Snack" Mini Muffins
Makes 60 Mini Muffins
2 c. white whole wheat flour
1 1/2 tsp. cinnamon
3/4 tsp. kosher salt
2 tsp. baking soda
3/4 c. honey or maple syrup (or a combination)
2 large eggs
2 tsp. vanilla
6 tbsp. unsalted butter, melted and cooled
2 c. grated and squeezed-dry zucchini
1 c. grated and squeezed-dry carrot
1 c. raisins
1. Preheat oven to 350 degrees. In a large bowl, whisk flour, cinnamon, salt and baking soda.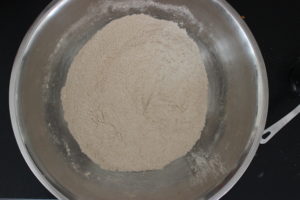 2. In a smaller bowl whisk honey, eggs and vanilla. Add mixture to dry ingredients and fold to combine.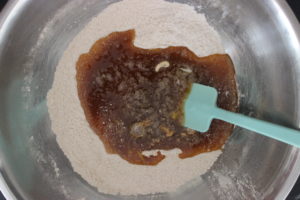 3. Add melted/cooled butter and fold to combine.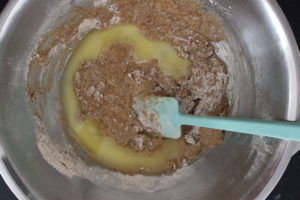 4. Add zucchini, carrots and raisins and fold until evenly distributed.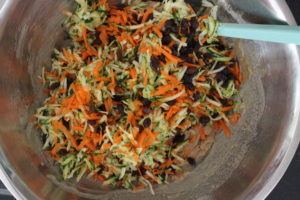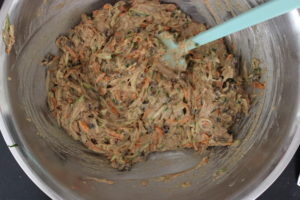 5. Line mini muffin pan with liners or spray with nonstick spray. Add batter to pan, filling cups to mounded brim (about 1 tablespoon of batter). Bake for 15 minutes (if making larger muffins, bake for 20-22 minutes). Cool on wire rack and store at room temp or freeze (see instructions above – in intro).