I quite enjoy meals that look fancy but take no time at all. No time, and no real skill. We had this on a weeknight but I would absolutely serve it for company – guilt free and elegant is a rarity but the two most definitely make friends in this dish.
I used a rotisserie chicken for this and though the squishy, processed, shriveled up bird sort of grosses me out, it sho' was nice to have cooked chicken on the ready. To poach chicken (this will work with thighs as well as breasts), bring a small pot of water to boil and add chicken (so that its submerged). Reduce heat to low or medium/low (you want bubbles breaking the surface only rarely) and cook about ten minutes. Once the onion, chicken, and parsley was chopped this came together in mere minutes.
Serving this to young ones? I chopped up one serving and covered with a solid layer of parmesan cheese, which they like. Once they tasted it they were on board and it only took a little slight of hand. Oh lastly – this is easy to make dairy free since the cheese is a topping – just don't top the mushrooms for the dairy free folks.
Chicken and Herb Stuffed Portobello Caps
Serves 4
Adapted from Clean Eating Magazine – 300 calories per serving – 39 grams protein
2 1/2 c. cooked, chopped chicken
1/2 c. finely chopped red onion
4 egg whites
1/4 c. bread crumbs (gluten free if needed)
1/4 c. chopped fresh parsley
1/2 tsp. dried tarragon
1/4 tsp. black pepper
3/4 tsp. salt
6 large or 8 medium portobello mushroom caps, stems removed, gills scraped
1/4 c. parmesan cheese, or more to taste
1. Preheat oven to 375 degrees.
2. Cover a baking sheet with foil and spray foil with nonstick spray. If mushrooms are very large/thick, bake for about fifteen minutes in the preheated oven before stuffing. 
3. In a mixing bowl, mix chicken, onion, egg whites, bread crumbs, parsley, tarragon, pepper and salt until evenly combined.
4. Set mushroom caps, stem side up, on baking sheet. Spoon filling on top of each, dividing mixture evenly between them.
5. Top evenly with parmesan cheese.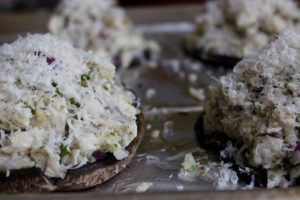 6. Bake for 20 minutes or until cheese is light brown. Serve immediately.