Time flies. I can remember so clearly being married, no kids, in our little old house in the borough. Saturday mornings I would hit a 9 AM spin class, followed by the grocery store and then home to unpack and clean the house. I figured if I knocked off all of my weekend "must do's" before noon I could laze about the rest of the time. But I wouldn't – I had the baking bug and I had it bad. I would spend hours putting together complex recipes and I loved every minute. Well, flash forward 9 years to this moment. 
Nowadays, if I have a thought – any thought – I must act on it immediately or else it will be gone for ever. Post-it's litter the counter, saying things like "cut Tessa's nails" or "switch laundry". Babies and three year old "punch you" boys and kindergarten chatty Kathys pool their powers rendering their parents' brains to complete mush. Oh and the complex recipes? They are no longer. Now there's the crockpot, there's bulk cooking (and eating the same thing for three nights in a row) and there's an unproportional amount of "breakfast for dinner" nights.
I had two pork tenderloin (Costco sells in a pack of two – genius) and wanted a recipe that literally required no steps. This one fit the bill nicely. Trim meat, put in crockpot, mix up sauce in a bowl, pour on top. Shred meat in sauce. The end. It shreds nicely without breaking up too much, is perfectly sweet/salty, and can be used in a thousand applications. The first night we ate it as was with some veggies, but the second night I used it to make carnitas nachos (oh, add nacho night to the "this is us" list above). You could put it on flatbread/pizza, over salad greens, in tacos/burritos. Or how about a grilled pork and swiss cheese sandwich? It doesn't taste Asian or Italian – it's just tasty – so the uses are endless. If you're making a smaller portion with just a single tenderloin, cut the sauce ingredients in half. Easy!
Simple Slow Cooked Pork Tenderloin
Serves 6
2 lb. pork tenderloin, trimmed of visible fat
1/3 c. Tamari or soy sauce
1 tbsp. spicy brown mustard
3 tbsp. maple syrup
2 tbsp. olive oil
2 tbsp. dried onion
2 tsp. garlic powder
1. Spray nonstick spray around bottom and sides of slow cooker. Place meat in the bottom. Mix remaining ingredients until blended and pour over meat.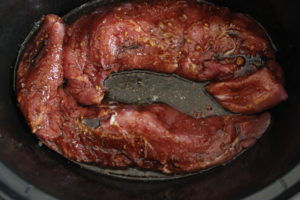 2. Cook on low for 6 hours or high for 3 1/2. Shred meat or slice, if desired, and serve.