I love Brussels Sprouts, and they're on this site in countless recipes, but always roasted. Why? The high heat caramelizes the veggie making it crunchy and delicious. With the skillet there's the possibility that it will steam, and it doesn't get grosser than steamed Brussels Sprouts. When I read this recipe in my ATK mag, I was intrigued. There's a method here, but they'll be ready in ten minutes and every second of your attention is worth it. So good. 
Now, I typically roast a large quantity of sprouts and eat the leftovers with eggs the next morning, but this application works best with a smaller amount – as many halves as you can fit in your covered skillet. You CAN work in batches, and that's what I did here because I'd bagged 1 3/4 pounds at the grocery store. With the lemon and the cheese these are just absolutely fantastic. My husband came home from work hungry just as I was photographing the finished product, and he dug right in. I told him, "you know, you don't have to finish them all". He replied, "but I can, right?" That's correct, folks, he ate 1 3/4 lb. of Brussels sprouts all by himself.
Skillet Brussels Sprouts with Lemon and Parmigiano Reggiano
Serves 4
Slightly adapted from America's Test Kitchen
1 lb. small Brussels sprouts, trimmed and halved
1/4 c. olive oil
1 tbsp. fresh lemon juice
1/4 tsp. kosher salt
1/4 c. grated Parmigiano Reggiano
1. In a large, nonstick skillet with a lid, place sprouts cut side down in an even layer. Drizzle with olive oil.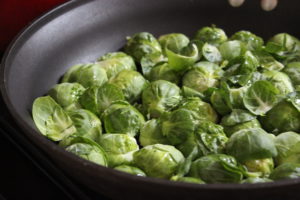 2. Place pan over medium high heat and put lid on. Cook five minutes.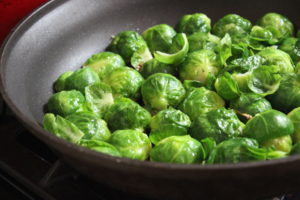 3. Remove lid and cook for 2 to 3 more minutes. Remove from heat.
4. Drizzle with lemon juice and sprinkle with salt – toss to evenly coat. Remove sprouts to a serving plate and sprinkle with cheese. Serve.