Guys – this cake. This cake is so good. It's the most moist pound cake I've ever had. The lemon flavor is potent so every bite packs a punch in the most fresh possible way.
Pound cake usually involves creaming butter and sugar then adding dry ingredients alternately with wet (aka a hassle). Not this cake. It comes together like a banana bread – whisk dries, whisk wets, combine. You don't even need softened butter since it uses oil. The only adaptation from Ina's recipe, besides the wording of the directions, is that I used large eggs instead of extra large eggs and changed the icing ingredients to be a bit less measured. If you ever make a glaze know this – powdered sugar is your "dry" and fruit juice, milk, or water is your "wet". These two must be combined in a way that yields a glaze you like the texture of. Too thin? Add more sugar. Too thick? Thin with your liquid of choice. It's really that easy.
I cut myself a sizable hunk and then slivered myself several more minuscule slivers that most definitely added up to sizable hunk number two. It was SUPER moist and perfectly sweet/tart – just the sort of combo that keeps you slivering away. This is nice, easy, summery dessert that would be absolutely fabulous with a little scoop of vanilla bean ice cream on top.
Lemon Pound Cake 
Serves 8
Adapted from Ina Garten
1 1/2 c. all purpose flour
2 tsp. baking powder
1/2 tsp. kosher salt
1 c. plain yogurt or buttermilk
1 1/3 c. sugar, divided
3 large eggs
zest of 2 lemons
1/2 tsp. vanilla
1/2 c. vegetable or other mild oil
1/3 c. fresh lemon juice (about two lemons)
Glaze
1 1/2 c. powdered sugar
Juice of 1Â lemon
1 tsp. vanilla extract
1. Preheat oven to 350 degrees. Spray a 9×5 loaf pan with butter/flour (baking) spray, or butter and flour.
2. Whisk flour, baking powder, and salt in a large mixing bowl.
3. Whisk yogurt (or buttermilk), 1 c. of the sugar, eggs, lemon zest and vanilla together until combined.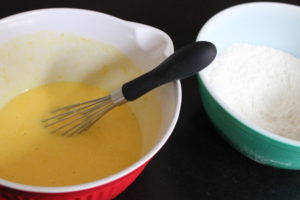 4. Add wet ingredients to dry ingredients and fold until mostly combined.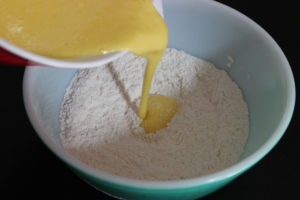 5. Add oil and fold in until combined. Scrape mixture into prepared  pan and bake for 45 to 50 minutes in the middle rack of the oven.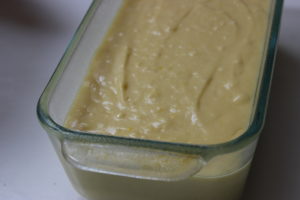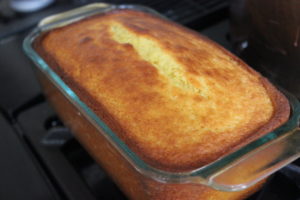 6. Meanwhile, heat remaining sugar (1/3 c.) and lemon juice in a small sauce pan until simmering. Stir until sugar is dissolved. Remove from heat.
7. Let the cake cool in the pan about ten minutes, then remove cake from pan and place on wire rack. Pour lemon liquid over the cake, slowly, allowing it to soak in. Let cool completely on rack.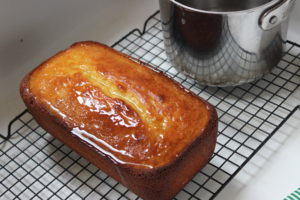 8. Whisk glaze ingredients together and drizzle over cooled cake. If glaze is too thick – thin with a bit of water.