I've done a Thursday morning Bible study at my church since resigning from teaching, and it's the best, for so many reasons. One of the reasons (okay, it's a small reason compared to the other ones) is that there's a breakfast snack table. I love me a buffet. Every week a different group is in charge, and once in a while I'll taste something so memorable I have to stalk. I find out the group, find out the individual, and beg for the recipe. Which leads me here – thank you Kate for finding this gem! 
She sent me the link and I was thrilled when I read the recipe developer's name, because Ellie Krieger does a great job of blending healthful/light and tasty. Basically I'd eaten two bowls of this at study in such an alarmingly quick way, while holding up a "wait just a minute" finger at anyone who tried talking to me. It was just perfectly sweet and chockfull of goodies like raisins, apples and pecans. Feel free to make it just as written, or follow my version with the changes. I doubled the recipe and swapped coconut oil for vegetable oil (and then had to add it at a different place in the recipe). This recipe is a bit more involved than some baked oatmeals, but it really is worth it. I've already made it twice in two weeks.
Tessa, who is 6, ate a bowl of this with maple sweetened Greek yogurt and declared "this is like eating a cupcake with frosting on top". I've eaten it for breakfast each morning and snacks throughout the day, and my husband, who eats GF, took the cold leftovers to work and requested I make it again, ASAP. It will keep, covered with plastic, in your fridge at least a week, and I'm sure you could freeze it as well. SUCH a win in my house, I'll be making it a ton from here on out.
OH for the milks? You can use all almond or all cow's or any crazy milk they're cooking up these days – I just listed what I used. Beware the word "divided", it means the ingredient will be used at two different places in the recipe.
Morning Glory Baked Oatmeal
Adapted from Ellie Krieger
Makes 9×13 pan
2 c. pecans, chopped (walnuts will work as well), divided
1/2 c. unsweetened shredded coconut, divided
2 tsp. cinnamon, divided
2 tbsp. brown sugar
1 tsp. and 1/8 tsp. salt, divided
2 tsp. baking powder
4 c. old fashioned oats
2/3 c. maple syrup
2 large eggs
2 c. vanilla unsweetened almond milk
2 c. reduced fat milk
1 tbsp. vanilla
2 Macintosh or Golden Delicious apples, cored and diced (unpeeled)
2 c. shredded carrots
1 c. raisins
1/4 c. coconut oil, melted
1. Preheat oven to 375 degrees. Place two bowls next to one another – one small, one large.
2. In the small bowl, put 1 c. nuts, 1/4 c. coconut, 1/2 tsp. cinnamon, the brown sugar, and 1/8 tsp. salt. Mix to combine. Set aside – this is the topping.
3. Place remaining nuts, coconut, cinnamon and salt in the larger bowl. Add baking powder and oats and stir to combine.
4. In another large bowl, whisk maple syrup and eggs until combined. Add milks and whisk to combine. Pour milk mixture over oats mixture and stir to combine.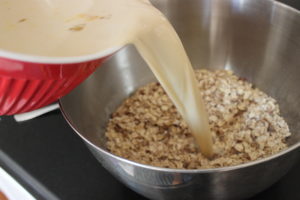 5. Add apples, carrots, and raisins to oat/milk bowl and stir to combine.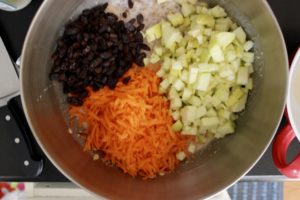 6. Grease a 9×15 baking dish with nonstick spray. Add coconut oil to oat mixture in a steady stream while stirring, and immediately pour mixture into prepared pan. Sprinkle with reserved topping and place in preheated oven. Bake for 40-45 minutes or until topping is golden.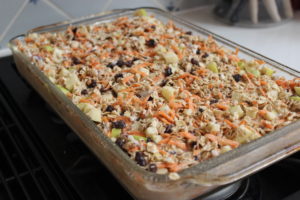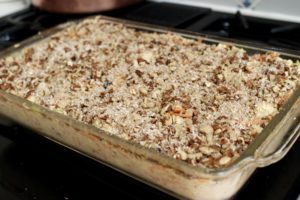 7. Let cool to firm and serve. To reheat, place in 300 degree oven, covered with foil, for 20 minutes.