Though my mom had me on the wheat bread train since birth, there were plenty of pantry items that were occasional treats in my life that didn't make the transition to my own family's kitchen. A favorite? Crumb-topped Entemen's doughnuts. Well, if you were a fan of those, then you will definitely like these.
The flavor similarity is spot on, only in this case it takes the form of a crisp edged, chewy soft center with a sweet glaze. The flavor really comes from the nutmeg, and though I don't often get picky with ingredients, I do believe in fresh nutmeg. You can buy some right here, and you use your rasp grater to grate what you need (I never measure it after grating, just approximate). It's a little thing but think it makes a big difference.
These cookies are so good that my neighbor Alyssa, who I force food on pretty often, deemed these her favorite cookie I've ever made her! That's saying something! I had to brush my teeth immediately after eating dinner so that I wouldn't eat a third cookie that day, and the next afternoon I had to hide them! From myself! They're nut free and I'm sure would freeze well, so they'd be a great lunchbox cookie. They also couldn't be easier to make, what with the melted butter. No mixer required! If you want them perfectly round without having to roll them, invest if one of these babies. I use mine a ton.
Iced Oatmeal Cookies
Makes 3 dozen
2 c. old fashioned oats
2 c. all purpose flour
1 tbsp. baking powder
1 tsp. baking soda
2 tsp. cinnamon
½ tsp. nutmeg
1 tsp. kosher salt
2 sticks (1 c.) unsalted butter, melted
1 c. sugar
½ c. brown sugar
2 large eggs
Glaze
2 c. powdered sugar
3 tbsp. milk
1 tbsp. vanilla
1. Preheat oven to 350 degrees and line a baking sheet with silpat or parchment.
2. In a food processor or blender, pulse/blend oats until partly ground (you don't want them to be powdery, just chopped).
3. Add flour, baking powder, baking soda, cinnamon, nutmeg and salt to processor and pulse several times to combine.
4. In a glass bowl, melt butter. Add sugars and whisk well. Add eggs, 1 at a time, and whisk well to combine completely.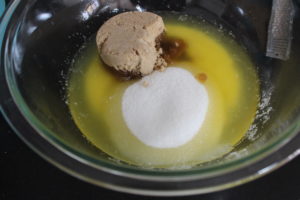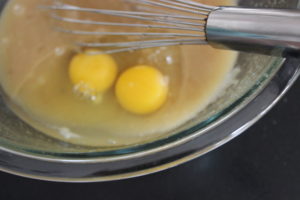 5. Add oat/flour mixture to butter mixture and gently stir until just combined.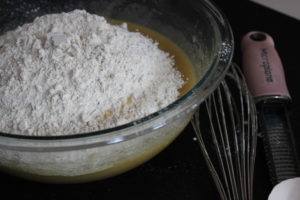 6. Cover dough and chill 30 minutes. Roll batter into 1 inch balls and place on baking sheet, making sure to space them at least two inches apart.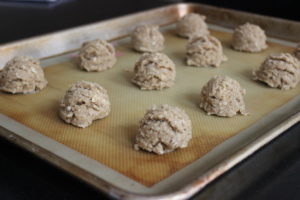 7. Bake for 14 minutes or until set – the edges should turn just slightly golden.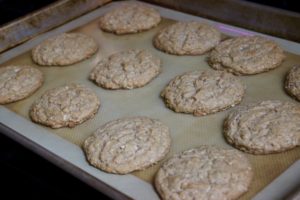 8. Let set on sheet about five minutes then gently remove to wire rack to cool completely.
9. To make glaze, whisk glaze ingredients together until blended. Hold cooled cookies in fingertips and dunk face-down in glaze. Lift up and let excess glaze drip off, then turn right side up and return to cooling rack. Continue with the rest of the cookies.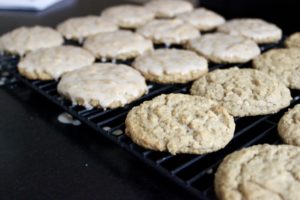 10. Let glaze set completely before storing in an airtight container.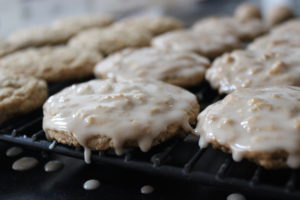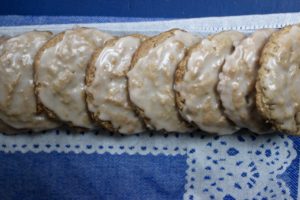 My baking buddy