I have something to confess. I am not good with technology. If it wasn't for my brother in law Tom starting this, teaching me how to use it, and fixing all the problems, there'd be no homebeccanomics. There is a reason I'm telling you this…
There is a place on the right side of my home page that says "most popular recipes". The breakfast sandwiches, which the number of pins supports, is the top favorite. The second spot has always been filled with my chocolate banana protein muffins. I figured it was some sort of glitch in the system as I didn't know it was a popular post. Turns out, it is! The pictures and writing needed work, as so many of my older recipes do, so I remade the muffins this past weekend.
I made 12 standard and the rest "mini", and the minis were immediately frozen to be used for Tessa's school "snack". She came home after the first day of eating them and said, "Can you please give me those chocolate muffins every day for the rest of the year???". With bananas, whole wheat flour and some extra protein, I think it's a great idea. For myself and the kids protein I use Orgain organic chocolate protein. Like any muffins, these come together quickly and simply. I've said this before but if you're new to baking, start with muffins. They're crazy forgiving. Easy subs here, too. Almonds instead of walnuts? Sure (or skip the nuts entirely). You can use flour or try a gluten free variety, and sub any kind for the mini chocolate chips. Hope you enjoy!
Chocolate Banana Protein Muffins
Makes 1 1/2 dozen, or 1 dozen and 2 dozen mini muffins
1Â 1/2 c. white whole wheat flour
1/2 c. chocolate protein powder
1/4 c. cocoa powder
2 tsp. baking powder
1/2 tsp. baking soda
3/4 tsp. kosher salt
1/2 c. sugar
2 large eggs
3 over-ripe bananas, mashed
1/2 c. Greek lowfat or fullfat yogurt
1/3 c. mild oil, such as vegetable
1 tsp. vanilla
1/2 c. walnuts, chopped, optional
3/4 c. mini bittersweet chocolate chips
1. Preheat oven to 375 degrees.
2. In a medium bowl, whisk flour, protein powder, cocoa, baking powder, baking soda, and salt.
4. In a large bowl, whisk sugar, eggs, bananas, yogurt, oil and vanilla until combined.
5. Fold wet ingredients into dry until mostly combined.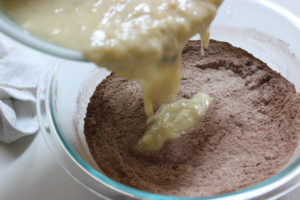 6. Add walnuts (if using) and chocolate and continue to fold until just combined.
7. Spray muffin tins with nonstick spray or fill with paper liners. Divide batter evenly between the holes, filling each about 2/3 of the way full. 
8. Bake for 12-15 minutes (or 10 for mini).
9. Let cool in the tin for about five minutes, then remove to a wire wrack to cool completely.
These will keep at room temp for several days. They will freeze GREAT; put them in bags of two and take them out as you need them for breakfasts on-the-go.