I was literally writing this recipe while Gilmore Girls was playing in the background. Zack, Lane's husband, invited Luke to dinner. Zack said pregnant Lane was making curry, as she's gone curry crazy. Luke said he's not big on curry. WHAT ARE THE ODDS? 
I'm recently big on curry. I had to make a Whole 30 meal for someone who came to dinner, and stumbled on this one on Pinterest. Well, one like this. It was super rich, using regular coconut milk and chicken thighs. It was delicious, I won't lie, but although I know fat is satiating, I didn't feel any more full after dinner and still ate a crap ton of ice cream. Light coconut milk still has plenty of fat and with a bunch of veggies and lean chicken breast, this dish was just perfect.
I've made it too many times to count since that first batch, and I'll let you know where you can change things up. What's necessary? Coconut milk, ginger, garlic, curry, basil and lime. These flavors come together to make delicious curry. That being said, feel free to change up the protein and the veggies. Next time I'll add some zucchini for sure, and snow peas would be excellent. There's plenty of sauce so you can add more veggies than I have here. Not sure if you like curry? Try it, please, we can all be curry crazy together.
Slow Cooked Chicken Curry
Serves 4-6
1 (15 oz) can light coconut milk
3 chicken breasts, fresh or frozen
1 tbsp. olive oil (or coconut oil)
1 lg. onion (or two smaller), sliced
2-3 orange/red/yellow bell pepper, sliced
1 tbsp. fresh ginger, grated
1 tbsp. fresh garlic, minced
2 tbsp. curry powder
1 1/2 tsp. kosher salt
1 tbsp. tapioca starch or corn starch
1/2 tsp. black pepper
1 bunch scallions, sliced (light green and green parts)
1/4 c. packed fresh basil
1 lime, juiced
1. Combine coconut milk and chicken in crockpot. Set on high for 3 hours.
2. When crockpot has about an hour left, heat olive oil/coconut oil in large skillet. Add onion and peppers and saute until slightly softened. Add ginger and garlic and stir to combine – let cook about one minute or until fragrant.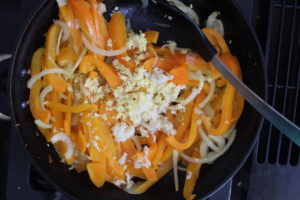 3. Add curry powder, salt, starch and pepper and stir to combine.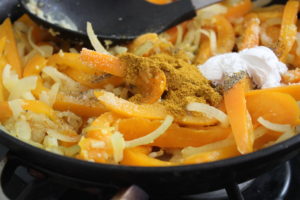 4. Add mixture to crockpot and stir to combine. Let cook for the remaining hour.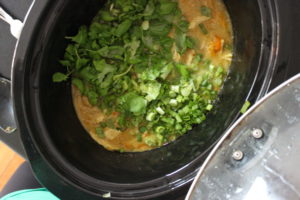 5. Add basil, scallions and lime juice and stir to combine. Taste for salt. Serve over rice or cauliflower rice.